The Haskayne Leadership Expedition
Canadian Centre for Advanced Leadership in Business (CCAL)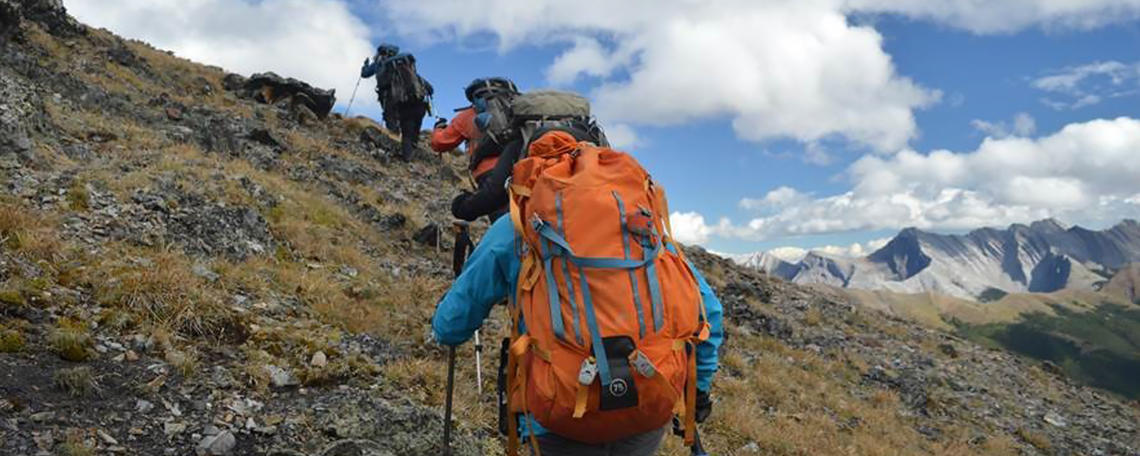 Overview
The Haskayne Leadership Expedition is a five-day backpacking expedition that will take participants into spectacular high mountain terrain in the Rockies.
Recalling the old adage that "there are no passengers, only crew" on a true expedition, students will quickly find themselves engaged in learning to lead every aspect of the journey. Alongside the fun, camaraderie and adventure, course elements will include training in a range of technical skills for traveling safely and efficiently in the mountains (e.g. trip planning, navigation & route-finding, risk assessment, camp craft, wilderness skills, ecological awareness), problem-solving challenges, leadership assignments, structured personal reflection, small group work and both the structured discipline and adaptive creativity required to achieve expedition goals while traveling in challenging wilderness terrain under unpredictable conditions.
Who is it for?
The course is intense and challenging and is designed for undergraduate students who are committed to both developing themselves as leaders and to playing a leadership role within the Haskayne School of Business. No previous outdoor or expedition experience is required but you will need to be fit enough to participate in a week-long wilderness backpacking expedition in the mountains carrying a pack and sleeping in a tent.
There are only 24 places on the course and priority will be given to Haskayne undergraduate students who are committed to developing themselves as leaders and to giving back through acts of leadership and service. In order to participate in the Leadership Expedition, students must have achieved a C- or higher in OBHR 317.
What to expect
The Leadership Expedition will run from August 28 - September 2, 2022. A pre-trip meeting will be held for all registered students in August prior to the course. 
To get a sense of the expedition, check out this video about the 2015 program and this video about the 2019 program And here's a message from Dr. Julian Norris, in which he describes the Leadership Expedition and speaks about the value of spending time in the mountains. For detailed information about the program, please read the course letter.
Application Process
Applications for Fall 2022 are now open and will close on Friday, March 25 at noon.
Students are required to apply to participate in this course and must have achieved a C- or higher in OBHR 317. All applications are reviewed and the top 24 applications will be offered a place in the course. Those not selected will be offered a place on the waitlist.
Click here to fill out the application form.
Questions? Please email leadership@haskayne.ucalgary.ca.