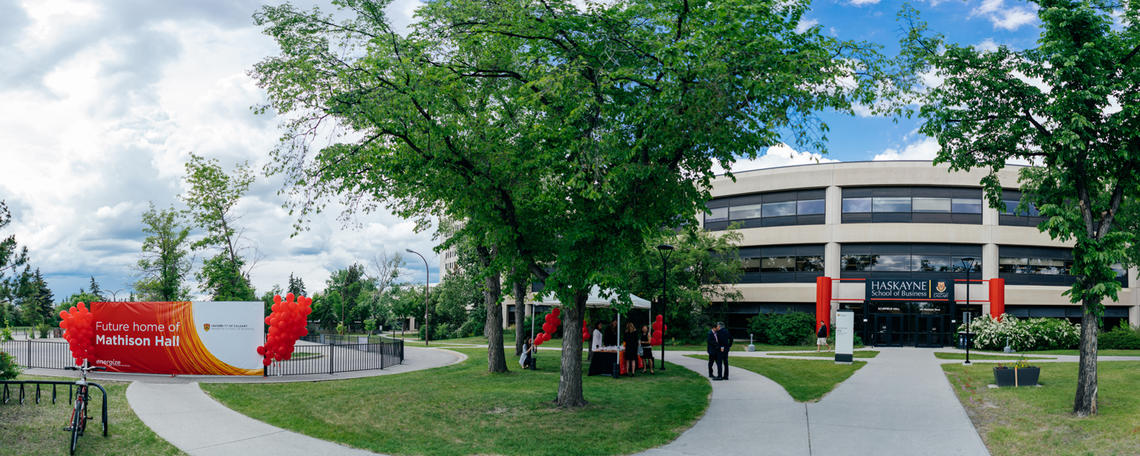 Help us expand the Haskayne School of Business
The new Mathison Hall, together with a renovated Scurfield Hall, will be the heart and home of the Haskayne School of Business. When it opens in 2022, Mathison Hall will offer business students a state-of-the-art learning environment, provide much-needed classroom space at the University of Calgary and propel the school to the next level.
Mathison Hall is named in honour of Calgary business leader and philanthropist Ronald P. Mathison, who spearheaded the philanthropic funding for the building with a $20 million gift. The new leading-edge facility will be a cohesive and dynamic new environment for business education.
With an open and inviting design, the new building will encourage communication and connection across the school and will add massive capacity for teaching and learning, research and community engagement. Spaces will include state-of-the-art classrooms and innovative technology to support teaching and learning, collaborative work spaces for individual and group study, welcoming public areas to host renowned speakers and special events, and leading-edge corporate environments expected of downtown Calgary.
We are grateful for the generosity of our many donors who are helping us transform business education and research - and directly impacting our next generation of business leaders.
Donors who have given $25,000 or more to the Haskayne School of Business are publically recognized on our donor wall, located at Scurfield Hall - our home at the University of Calgary main campus.