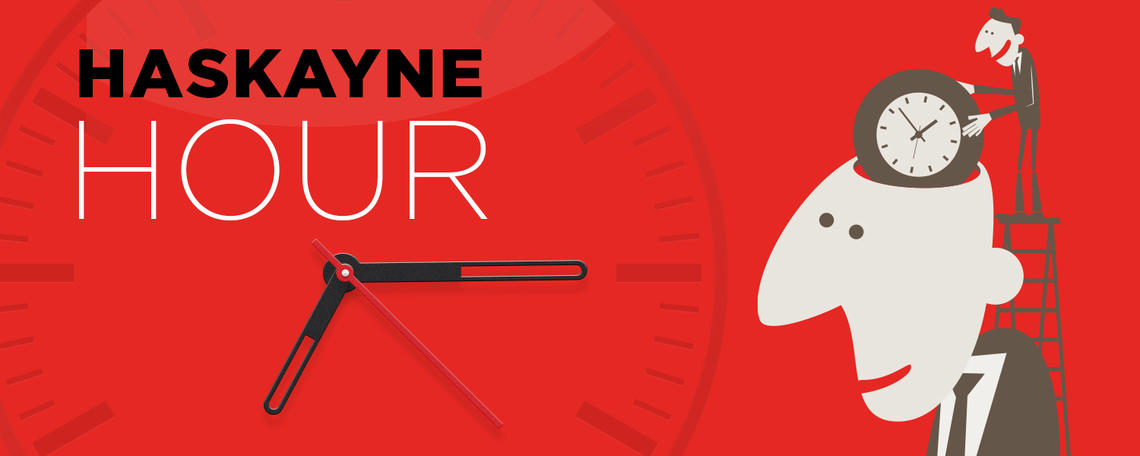 Haskayne Hour will return in Fall 2021. Check back and watch your email for details.
Missed a past Haskayne Hour? Watch here.
Enhancing start-up success
September 21, 2021
Calgary's start-up ecosystem is valued at $2.7 billion and the city is a hotbed for innovation with more patents per capita than the rest of Canada. There is no doubt that start-ups will play a big role in the future of Calgary and Alberta.
Developing a start-up is both an art and a science – and we invite you to join us as we bring together a Haskayne researcher, Dr. Michael Robinson, PhD along with Dr. Terry Rock, PhD, President and CEO, Platform Calgary. Together, they will share some of the specific steps needed to develop an effective start-up and how the Calgary innovation ecosystem is working together to support entrepreneurs – with insights from research and from experience. Expect some statistics, some debate and an opportunity to ask your questions.
Dr. Terry Rock, PhD. is the President and CEO Platform Calgary. Platform Calgary, alongside partners in the Calgary Innovation Coalition, are driven to make Calgary a global hub for startups and innovation by increasing the number of technology startups in Calgary by ten times to 3,000 core tech startups by 2031. Prior to joining Platform Calgary, Rock has been Executive Director of the Alberta Small Brewers Association and founding CEO of Calgary Arts Development Authority. He worked on Civic Partnerships at the City of Calgary, and was an Assistant Professor in Strategy at the University of Calgary.
Dr. Michael Robinson, PhD. is a Professor and the Chen Fong Fellow in Entrepreneurial Finance in the Haskayne School of Business. He was the first site lead for the Creative Destruction Lab Rockies program and continues to serve as its Academic Director. He founded the Calgary Portfolio Management Trust (CPMT) program, a hands-on student investment fund, at the Haskayne School of Business in 1993. Earlier in his career, Robinson was a venture capitalist while on a three-year leave from the University of Calgary where he was the lead investor for several multi-million dollar investments in high technology firms in Western Canada.
Moderator is Dr. Alice de Koning, Ph.D., Teaching Professor of Entrepreneurship at the Haskayne School of Business, RBC Teaching Fellow in Entrepreneurial Thinking and Academic Director, Hunter Hub for Entrepreneurial Thinking.
Question: Do you have any examples of start-ups in energy, and/or tech related to energy that you are involved with?
Michael Robinson Answer: The following is a link to ventures that have graduated from the CDL-Rockies energy stream: https://www.creativedestructionlab.com/companies/?stream=energy&location=calgary.
Question: A 2014 HBR article mentioned that research has not provided evidence that firm formation contributes to economic growth. Has that changed and do you feel Canada, or Alberta specifically, is making the right policy changes to promote and support an ecosystem for high-growth ventures? If not, is there anything that needs to happen on a policy level to spark the change? For example, exemption policies around accredited investors to include those with specific designations (MBA, CFA, etc).
Michael Robinson Answer: This is a much larger question than can be answered with a short answer. Having said that, here are some ideas. Firm formation is not a useful proxy for economic activity as we have to distinguish between small businesses (measured by firm formation statistics) and start-up (a subset of new business formations that focus on develop a new business model). There is evidence that encouraging more start-ups, as opposed to small businesses, will increase economic growth. Canada, and Alberta, are trying a number of initiatives including voucher programs to support start-ups in their earliest phases and providing venture capital either directly (BDC Venture Capital) or indirectly (Alberta Enterprise Corporation). You can access reports from those two organizations highlighting how their activities are increasing start-ups. Those sources of funding are typically provided during the later stages of a corporation's development and the exemption policies you are referring to are designed to fill the financing gap prior to VC financing being available. Those securities exemptions are newly designed, but were created based on consultations with industry professionals, so time will tell if they will help increase capital for early-stage start-ups. One policy that I have heard suggested, but which has not yet been implemented, would be to increase the lifetime capital gains exemption for start-up founders beyond the current level. A related policy would be to allow an investor in an early-stage start-up to reduce the taxes, or at least defer the payment of those taxes, on any capital gains if they redeploy that capital back into other early-stage start-ups.
Terry Rock Answer: Alberta's Innovation Capital Working Group had some great work along these lines (https://open.alberta.ca/publications/innovation-capital-working-group-report-and-recommendations). Alberta is notably absent as a province without an early-stage investor tax credit, a top priority topic for the sector.
There's mixed evidence on where job creation comes from. My view is we should take a macro view on this and look at our current economy… will the energy sector, undergoing major shocks as well as significant automation, be a source of significant job growth? For sure it will be the backbone of our economy for some time (especially if we think "energy" vs "oil and gas"), AND it is also true that we should look to other areas of growth/demand. Tech can power any sector, and thus is a great bet to make as a sector that will see long-term growth, high quality jobs, exports, etc.
Question: What's a successful formula to forecast your cash/financing needs as you scale?
Michael Robinson Answer: This is a key part of creating a successful corporation, being able to accurately forecast cash needs, being able to raise the necessary financial capital, and then being able to effectively use that financing to execute the business plan. The best way to consider this process is to think in terms of corporate milestones, e.g. significant changes in the corporation's business activities, that show progress. Examples of milestones would be to develop a minimum viable product (MVP), to develop pilot customers, to achieve commercial sales, etc. There is no one formula that can be used to determine how much cash is required to achieve a given corporation's milestones, but there is an effective process that can help the entrepreneur develop effective forecasts. The process is the build-up method, where the entrepreneur creates a monthly cash budget identifying all expenses to be incurred in a given month and aggregating those expenses across time until a milestone is reached.
Question: What are the Calgary connections to other city/regional eco-systems? Am available to share global eco-systems ranked higher than Calgary--such as Smart Waterloo Region,          Brazil Sebrae, Colombia, Indonesia, global India-based network for medical devices, as well as Calgary/global EdTech cluster.            Cheers, Dr. Bob
Terry Rock Answer: We are part of the Startup Genome global network, are connected to most of the tech hubs in Canada through our membership in Canada's Tech Network (led out of Kitchener-Waterloo's Communitech). Soon, Alberta will be home to several global accelerator programs with locations in dozens of cities worldwide.
Question: Does CDL or Platform Calgary have any program in place to connect potential co-founders?
Michael Robinson Answer: CDL-Rockies only formally responds to submissions by founders seeking entry into the program. Having said that, if the CDL-Rockies Venture Leader who is in charge of screening applications sees the ability to connect potential collaborators, they will work to make that connection on an exception basis.
Terry Rock Answer: There is nothing formal in place as of now to connect individuals. However, this is an area of active interest and exploration. Models such as EntrepreneurFirst could work really well in a city with deep engineering talent like Calgary. We are betting that some matchmaking will happen through the informal networking that will happen daily at the Platform Innovation Centre.
Question: Talking about importance of CEO and VC looking for CEO that has run successful startups to scale how does an experienced CEO get that credibility in the startup space to win with VC acceptance?
Michael Robinson Answer: VCs always make risk/return tradeoffs when considering investment decisions. The least risky CEO will be the one who has extensive start-up experience in the industry that they are planning to enter. The next least risky CEO would be one who has extensive experience in a larger corporation in the industry in which they are planning to enter. The most risky CEO would be one with limited to no experience in either a start-up or in the industry they are planning to enter. Thus, if a CEO has extensive industry experience, but limited to no start-up experience, that does not warrant an automatic rejection by the VC. What that individual needs to do is identify how they are going to address their experience gap, i.e. develop an effective management team that includes team members with start-up experience or have identified and attracted talented advisors or directors with strong start-up experience. What the CEO has to signal to the VC is that they realize that they have a knowledge/skills gap and are taking steps to address this deficiency.
Terry Rock Answer: Reps are really important. Our Junction program (for first time founders) starts with the assumption that the first venture is JUST the first venture. We're trying to help founders create good habits that will help them in the first, second, third start and beyond…
Blockchains Beyond Bitcoin: The Rise of Decentralized Finance
April 14, 2021
There are numerous applications of blockchain technology beyond cryptocurrencies. Blockchain is a decentralized form of record keeping with almost no limit that also delivers security and transparency.
How does decentralized finance change the way we can use money? What are the challenges of regulation in a decentralized environment? What effect will decentralized finance have on asset management and banking? How will central bank digital currencies change the way we make payments and settle contracts?
Dr. Alfred Lehar, PhD is an Associate Professor in Finance at the Haskayne School of Business at the University of Calgary. His research interests include fintech, bank regulation, financial stability and corporate finance. Lehar holds a Limited-Term Professorship to study the impact of blockchain technologies on capital markets awarded by the Canadian Securities Institute Research Foundation. He is currently researching mining fees and price differentials in Bitcoin markets He was a member of the University of Calgary team that advised Bank of Canada on how to design a central bank digital currency, a "digital loonie".
Amy ter Haar is an independent lawyer who assists industry leaders to implement frontier research into practical business applications. Her expertise is in demand as a speaker, including presenting at the International Telecommunication Union's World Conference, the World Council of Credit Unions, and as witness before Parliament of Canada. She is the Program Director for the Osgoode Certificate in Blockchains, Smart Contracts and the Law as well as the Osgoode Certificate in Privacy and Cybersecurity Law. She was a contributing author to the first edition of A Practical Guide to Smart Contracts and Blockchain Law (LexisNexis) and co-author of the forthcoming second edition. She is presently pursuing a PhD in law.
Moderator is Dr. Yrjo Koskinen, PhD, Associate Dean of Research and Business Impact and Professor of Finance at the Haskayne School of Business.
Question: Which industries do you think will be some of the first ones to adopt blockchains for the purpose of increasing transparency of transactions?
Amy ter Haar Answer: In contexts like supply-chain management, provenance and trade finance, companies lack a unified view of information because they don't fully trust their business partners. Blockchain enables translucent collaboration - sharing data without giving up control (and this is useful in these contexts). Whether it's an improvement over the status quo, depends on the context. 
Question: Do we need the central entity? Who governs if they are not present?
Amy ter Haar Answer: Decentralized solutions add value in a narrow set of circumstances. When those circumstances are not met, then more centralized solutions that rely on traditional intermediaries and relational contracts are unlikely to be replaced. This is because the benefits of transitioning to a blockchain-based system are unlikely to counterbalance the costs introduced by a decentralized infrastructure and governance, and the replication of state across the network. In Decentralized solutions the governance exists in the protocols. This varies depending on a number of reasons (public vs. private blockchains.)
Building resilience: lessons from family firms
December 3, 2020
From your mom and pop shop, to large global companies – family firms span all levels of the economic landscape. Not only do they have a broad presence, they are the most powerful driver of economic growth in Canada, being responsible for approximately 50 per cent of private sector GDP and providing almost half of private sector employment.
How do family firm owners balance long-term interests of the family and the business? What are the best practices for governing assets and human resources in family firms? Are leadership and management unique in a family controlled firm and what can firms with dispersed ownership learn from successful resilient family businesses?
Liena Kano is an Associate Professor of Strategy and Global Management at the Haskayne School of Business. In her research she explores business phenomena such as family firm governance, emerging economy multinationals and global value chains, with a particular focus on microfoundations that underlie complex governance decisions. Prior to earning her PhD at the University of Calgary, Kano enjoyed a dynamic career in strategic management in a range of Canadian and international industry sectors.
Jeffrey McCaig has been with the Trimac Group of Companies since August 1983. He is currently Chair of the Board of Directors, and was President and Chief Executive Officer from 1994 to 2015. Prior to joining Trimac in 1983, McCaig practiced law in Calgary, first as an associate of MacKimmie Matthews, then through Jeffrey J. McCaig Professional Corporation, focusing on corporate financing and securities. He obtained his undergraduate degree in Economics from Harvard; his law degree from Osgoode Hall Law School in Toronto, Canada; and his Master of Science in Management degree from the Sloan Program, Stanford University.
Moderator is Alice de Koning, Senior Instructor of Entrepreneurship at the Haskayne School of Business, RBC Teaching Fellow in Entrepreneurial Thinking and Academic Director, Hunter Hub for Entrepreneurial Thinking.
Fake news and the big business of behavioural tracking
September 23, 2020
You are leaving digital breadcrumbs across the internet and they are being used to target fake news to you. What is being tracked? How do you prevent it? How can we help stop the cycle of fake news?
Hear from Haskayne alumnus Gary Kovacs, BComm'90, MBA'99 who will bring his leadership experience in the software industry to the digital discussion. Haskayne researcher Dr. Raymond Patterson, PhD will share the latest research in data privacy and fake news and what it means to you. Moderated by Cara Wolf, BComm'97, MBA'05, a Haskayne alumnus who will bring in a Calgary perspective on cybersecurity.
Gary Kovacs, BComm'90, MBA'99 has more than 25 years of enterprise software and mobile technology industry leadership and executive management experience and is currently Chief Executive Officer at Accela. Prior to Accela, Gary served as CEO of AVG Technologies, a global leader in consumer and enterprise security software. Previous to this, he was CEO of Mozilla where he led the overall direction of the organization and the development and delivery of the Firefox browser and cloud services used by over 500 million people worldwide.
Gary is a frequent public speaker and has delivered keynote addresses at TED, the World Economic Forum (Davos & Shenzhen), Mobile World Congress, Clinton Global Initiative, F.ounders, All Things Digital /Code/ Re/Code, Fortune Brainstorm, among many others. His TED talk, Tracking Our Online Trackers, has over 2 million views. Gary Kovacs received the UCalgary Distinguished Alumni Award for Lifetime Achievement in 2013.
Dr. Raymond Patterson, PhD holds the Haskayne Research Professorship in Business Technology Management. His primary research interests include information systems, analytics, and quantitative decision and artificial intelligence technologies. He has published extensively in premier journals such as MIS Quarterly, Information Systems Research, Operations Research, Journal of Management Information Systems, Decision Support Systems, and many others. Patterson previously served as the Co-Editor-in-Chief of the journal Information Technology and Management for seven years, and currently serves as Associate Editor for Decision Sciences Journal. Learn more about his innovative research around fake news detection as well as data privacy.
Cara Wolf BComm'97, MBA'05 is the Founder and CEO of Ammolite Analytx, specializing in cyber security, artificial intelligence and customized technology production for global companies, government and private sector clients. Drawing upon her 25 years of technical and business expertise, Cara is a serial entrepreneur and has advised over 300 companies on the topics of innovation and digital transformation. In 2019, Wolf was recognized as a SHEInnovator with UNWomen, TECTERRA Woman of Impact and Trailbalzer STEM Universal Women's Network. She serves on the Advisory Board for the Hunter Hub and Hunter Centre and was the Haskayne Distinguished Graduate. Wolf is a Founding Member and Director of the International Association of Virtual CISOs (Chief Information Security Officers).
COVID-19's Impact on Workforce: What to Think About Now
June 9, 2020
The COVID-19 pandemic has the potential to dramatically shift the modern workforce away from in-person and in-place contacts towards digital solutions, robots and remote employment. Science, technology, automation and artificial intelligence could play a greater role in the society. Come and hear a lively discussion about the likely growth areas and the areas where a large portion of workforce would be rendered surplus. How would this massive workforce restructuring play out? What you should you and society think about now to plan for these changes?
Whitney Rockley is a Managing Partner and co-founder of McRock Capital, a venture capital firm focused exclusively on the Industrial Internet of Things (IIoT). Rockley is a sought-after advisor on innovation strategy having invested in high growth tech companies targeting industrial markets for the past 20 years. In addition to being one of the few female founders of a venture capital firm in Canada, Rockley was also the first female Chair of the Canadian Venture Capital & Private Equity Association (CVCA). Rockley currently serves on the boards of Praemo,  Invixium, Serious Integrated and Miovision. She served on the Boards of the Venture Capital Association of Alberta (VCAA), Decisive Farming (acquired by Telus), mnubo (acquired by AspenTech), RtTech Software (acquired by AspenTech), and PPIC (acquired by Pure Technologies, which was later acquired by Xylem). Rockley is also a Haskayne School of Business graduate, learn more about her Haskayne experience by listening to the Peer Review podcast.
Dr. Anup Srivastava, PhD, is the first Canada Research Chair at the Haskayne School of Business. He is one of the foremost researchers on the evolution of knowledge economy and the rapidly changing landscape of business. He shows how the practice of management changes when knowledge-based companies like Apple and Google replace asset-intensive companies, such as Ford and Exxon, to become the most valuable companies. Beyond scholarly publications in top academic journals, he has published over twenty practitioner-oriented ideas in Harvard Business Review. His work has been cited in Wall Street Journal, Financial Times, Economist and Forbes and Barrons. He brings to his research a unique lens with over 14 years of corporate experience, having worked as a banker, consultant and corporate executive in the United States and India. Before joining Haskayne, he was a professor at Kellogg School of Management (Northwestern University) and Tuck School of Business (Dartmouth College).
Moderator Kristen van de Biezenbos, is an assistant professor at the Haskayne School of Business and Faculty of Law, UCalgary. Her research explores energy law and its local impacts, with a focus on externalized costs and regulatory gaps. She also writes about global energy initiatives, international energy transactions and comparative energy policy. Before joining UCalgary in 2017, Kristen taught energy law and related courses at the University of Oklahoma College of Law and Texas Tech University School of Law. She received her J.D. from Tulane University Law School and interned for the honorable Judge Lance Africk at the U.S. District Court for the Eastern District of Louisiana. Kristen is a member of the Board of Advisory Editors for the Tulane Law Review and the Loyola Maritime Law Journal and is a former trustee of the Rocky Mountain Mineral Law Foundation. She currently serves as chair of the Admiralty & Maritime Law section of the American Association of Law Schools.
Question for Dr. Anup Srivastava, PhD: I have followed your research on the relevance of financial statements for financial analysis for modern companies. Will changes resulting from COVID-19 make these statements even more meaningless?
Answer: COVID has further enhanced the already growing importance of knowledge firms. During COVID times, technology has contributed to the smooth running of the world, as those who work from home would attest. We would have been unable to function without Microsoft, Apple, Cisco or Google. The shift toward AI and machines would now be accelerated, requiring even greater investments in research and development. In addition, pharmaceuticals and biotechnology would assume greater importance during and after COVID. These developments imply that the relevance of financial statements for companies that matter would further decline. That is, financial statements would increasingly fail to reflect the true resources of the company, which is soft assets like technology, patents, customer and social network, and brands.
Question for Whitney Rockley: If it is fair to say that humans are the most flexible resource, is there a danger for enterprises to lose this flexibility by going deeper into IoT?
Answer: As I mentioned on the call, humans will continue to be the best and most flexible robots we have for several decades to come. It is all about balancing automation and robotics with people but I don't think we should be fearful about going deeper into the IoT because we will lose the human factor. I believe it will always be there and act as the higher intelligence.
Question: Aren't the companies who haven't started a digital transformation already too late?
Answer from Whitney Rockley: Those companies that haven't started their digital transformations are definitely lagging behind but they can catch up if they have a good, executable strategy. You may want to check out Maciej Kranz's book called "Building the Industrial Internet". It's excellent.
Question: During COVID-19 there are indications that employers are placing work monitoring tools on employees at home workstations. Implications are that eventually employers will only pay for hours worked thus eliminating many full time jobs. Thoughts?
Answer from Whitney Rockley: I am not a proponent of big brother technology implementations. They inevitably fail and breed resentment from those who are being monitored. We should lead our teams by trusting them (not monitoring them). Employers need to focus on empowering their teams through solutions that enhance productivity.
Question: One of the factors that will limit the capacity to move to large scale digitalization/automation is the scarcity of skills needed. How fast do you think we can build those skills?
Answer from Whitney Rockley: This is an excellent question and one that cannot be answered with a specific time other than saying the faster the better. I think we can accelerate the building of these skills if we combine a deep industry domain expert with a data science/engineer. These cross-skilled teams tend to fill in skill gaps quickly.
Question: Isn't supervised learning a better approach for machine applications using data and physics as compared to unsupervised learning? Post Covid-19, the mundane or low tech tasks get automated, more value added jobs will stay? What is the viewpoint?
Answer from Whitney Rockley: It really depends on the application. Unsupervised learning is really good for complex, highly computational scenario analysis that needs to be done quickly and accurately. Supervised learning is great when you are combining the human "machine-whisperer" with the software to operate better. I fundamentally believe value added jobs will stay for some time.
Question: Once a vaccine or an effective treatment is developed for COVID-19, people will have a choice to resume traditional commuting travel for work.  While some will work remotely, others will want to commute to a common workplace because of the real or perceived benefits of social interaction.  Do you feel the concern with mass transit will encourage some to avoid mass transit and take personal vehicles?
Answer from Whitney Rockley: I do believe that the concern with mass transit will encourage people to avoid it all together and find alternative forms of transportation. Since COVID, demand is soaring for bicycles and many car companies are focusing more effort on accelerating the launch of their electric vehicle. COVID has placed an even bigger magnifying glass on reducing emissions so I am hopeful more environmental means of transportation will occur.
Leadership after a crisis
May 17, 2018
What happens after a crisis? When the dust settles and the path forward no longer resembles your original vision. How do you create stability in the aftermath and start to build a new vision for the future?
Join us and hear first-hand from Mr. Kevin Vickers, Ambassador of Canada to Ireland, about his personal experiences of leadership after a crisis and the critical steps you should take to prepare for such an event. The event will be moderated by Ian Holloway, Dean of the Faculty of Law at the University of Calgary and veteran of the Royal Canadian Navy.
Mr. Kevin Vickers was appointed as the Ambassador of Canada to Ireland in January 2015 and previously served as the Sergeant-at-Arms of the House of Commons. Mr. Vickers had a successful 29-year-long career with the Royal Canadian Mounted Police (RCMP), attaining the rank of Chief Superintendent. With the RCMP, Mr. Vickers was called upon to successfully lead a number of high-profile investigations, including homicides, national criminal investigations, international drug importations and a national investigation into those responsible for the safety of Canada's blood supply.
Mr. Vickers was appointed Director of Security Operations for the House of Commons in June 2005. He was soon after appointed as Sergeant-at-Arms (August 2006-January 2015). There he was responsible—along with a team of 1,000 employees—for ensuring the security of the Parliamentary Precinct, and for operations that supported the functions of Parliament. Mr. Vickers was also responsible of the implementation of the Long-Term Vision and Plan for the Parliamentary Precinct Services. He was hailed as a hero by Canada's parliamentarians, and other prominent Canadian and international figures for his actions in stopping the October 2014 attack at the Parliament of Canada.
Mr. Vickers is the recipient of the Queen's Jubilee Medal, the Canada 125 Medal, and the RCMP Long Service Medal. He has also been recognized by the Community of Burnt Church for his outstanding service to their community, and by the United States Drug Enforcement Agency for his Outstanding Contribution to Drug Enforcement.
Ian Holloway has been Dean of the Faculty of Law at the University of Calgary since 2011. Prior to this, Holloway served as Dean at the University of Western Ontario and an Associate Dean at the Australian National University. Over the years, he has also held appointments at Cambridge and the National University of Singapore.
Before beginning his academic career, Holloway spent a number of years in private practice in Halifax with the Atlantic Canadian law firm of McInnes Cooper, where he focused on labour and employment law. He also served as the law clerk to the chief justice of the Federal Court of Appeal. In 2003, Holloway was elected to membership in the American Law Institute, an honour that is held by only a handful of Canadians
Beyond the legal sphere, Ian spent a total of twenty-five years serving in the Royal Canadian and Royal Australian Navies. In 1989, he was awarded the Canadian Forces Decoration. In 1992, he was awarded the Commemorative Medal for the 125th Anniversary of Canadian Confederation, and in 2013, he was awarded the Queen Elizabeth II Diamond Jubilee Medal.
Toward rational climate policy
March 15, 2018
Rational climate policy for Canada is critical to its future economic development. In many ways, we still have a long way to go.
There are a number of tools available to governments, various targets they might try to achieve and lot of questions left to be answered. 
This Haskayne Hour with Dennis McConaghy and Trevor Tombe will explore these questions and help shift the climate policy discussion in a more rational direction.
Dennis McConaghy, former Executive Vice-President, Corporate Development, TransCanada Pipelines
Trevor Tombe, Assistant Professor (Department of Economics) and Research Fellow (School of Public Policy), University of Calgary
Are you on the right side of the cultural moment?
January 24, 2018
In an increasingly partisan and socially connected world, it is no longer enough to stay silently on the sidelines. People are expecting brands to take an active role in cultural, social and political moments. Yet, speaking up and speaking out can be fraught with risks and challenges. What can companies do to respond to these cultural moments as part of their marketing?
Join Scott Hughes and Scott Radford for an insightful conversation about joining the cultural revolution.
Scott Hughes, Vice President, Insight and Planning, Critical Mass 
Scott Radford, Associate Dean, Teaching and Learning, Haskayne School of Business