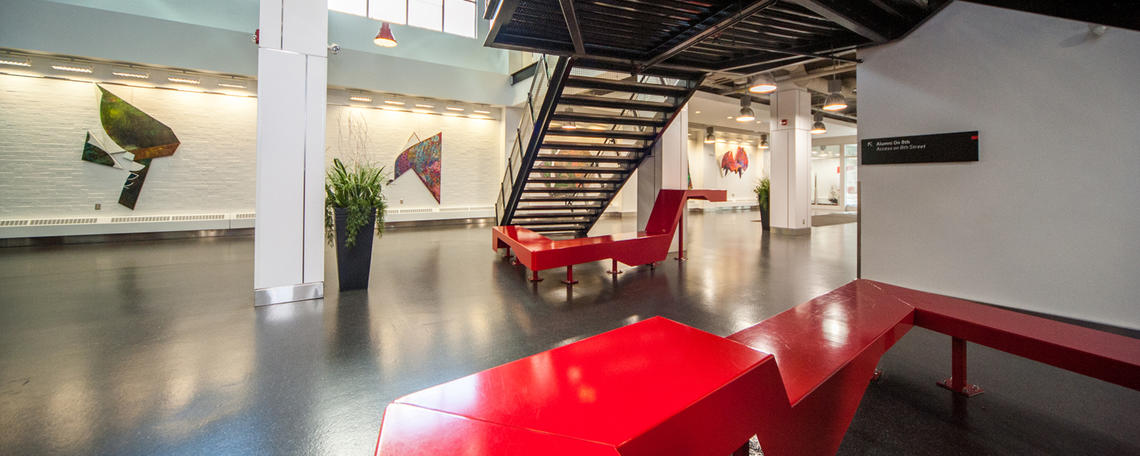 The Haskayne School of Business downtown facility occupies the 6th floor of the University of Calgary campus at 906 8th Ave SW. In particular, the Haskayne Executive Education facilities include a boardroom (seats 14), a main classroom (seats 48) and five breakout rooms. 
Paid parking is available on the street in front of the building (free after 6 pm), in a parkade attached to the building and a public lot across 8th Avenue. The closest LRT station is a block away; use the 7th St. or 8th St. station stop, depending which direction you are coming from.
The University of Calgary leases the entire building and controls all the space in it: six floors and a basement, which provide 127,000 square feet of flexible space.
The facility features a large event room on the main floor, which can accommodate 200-250 people seated for a meal or up to 500 for reception. An atrium outside the large event room on the first floor is also available for receptions and community engagement events.
The building (which has LEED silver certification pending) boasts the largest reflective roof installation in the country, insulation upgrades, a CO2 monitoring system, and low-flow washroom fixtures. The brand-new building also houses 13 classrooms, numerous meeting rooms, two fully equipped computer labs, four studio spaces, one multipurpose room, a book store and a library. The selection of the site was made following an extensive due diligence process that identified possible downtown locations.
The 8th Avenue location was selected for several reasons, including its proximity to the LRT, the flexibility of the space, the ability for the University to create a significant store-front presence, and the timely availability of the space. 
Want to book space downtown?
For the Haskayne School of Business spaces on the 6th floor, contact Michelle Verburg in Executive Education at execed@haskayne.ucalgary.ca or (403) 220-7220.
For rental of other spaces at the downtown campus location, contact Alison Gray, DTC Director, at gray@ucalgary.ca or (403) 210-8984.