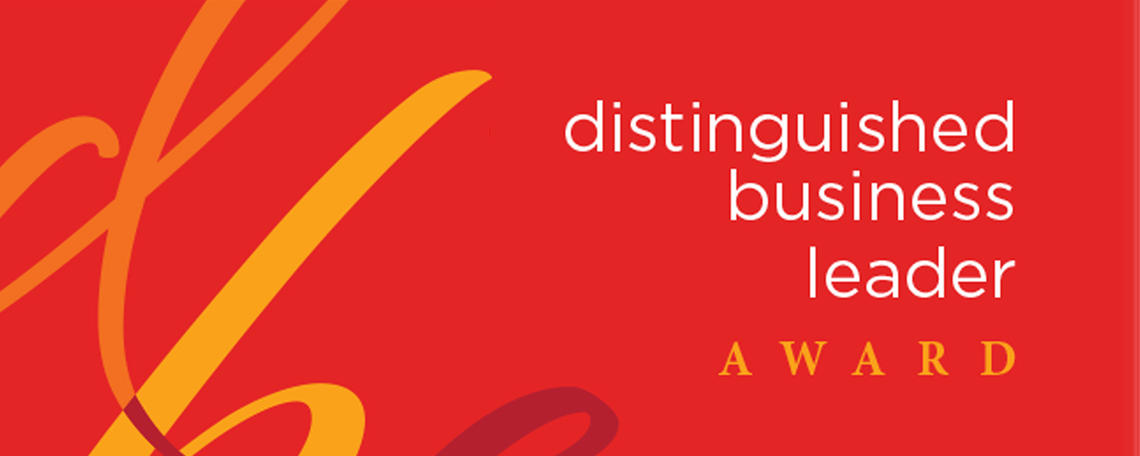 We believe that through celebrating ethical business leadership, we can grow a legacy of community builders.
The Distinguished Business Leader Award celebrates ethical leadership and builds a financial legacy to support our future leaders. Co-presented by the Haskayne School of Business and the Calgary Chamber, the award has recognized outstanding leaders in the Calgary business community since 1993. It serves to honour exemplary Calgarians for their outstanding personal and professional achievements, commitment to community and business acumen. In 2019, we were joined in our efforts by the support of Calgary Foundation.
We celebrate the Distinguished Business Leader at an annual awards dinner. The gala dinner recognizes the exceptional contribution of our community's ethical business leaders, and supports the development of our future leaders.
Since 2008, proceeds from ticket sales and sponsorships for the gala dinner have been directed towards the endowment of a scholarship that is awarded annually to a Haskayne undergraduate student who reflects the award recipients' commitment to ethical leadership. A portion of the proceeds also supports new entrepreneurs with the Emerging Entrepreneur scholarship offered through the Calgary Chamber.
Due to the measures in place to stop the spread of COVID-19, we have postponed our annual Distinguished Business Leaders Award gala until 2021, but the need to celebrate ethical leaders hasn't changed. In fact, we feel it is more important than ever.
To respond to these unprecedented times, the Haskayne School of Business, the Calgary Chamber and Calgary Foundation invite you to join us for the Distinguished Business Leaders Summit, an online summit of distinguished and high-profile leaders.
Please mark your calendar for June 21, 2021 when we plan to gather in person at the Distinguished Business Leader Award gala to recognize another outstanding and ethical business leader.
For more information about the Distinguished Business Leader Award, please contact:
Elizabeth Henderson
Associate Director, Community Engagement
Haskayne School of Business
403.220.6718
elizabeth.henderson@haskayne.ucalgary.ca