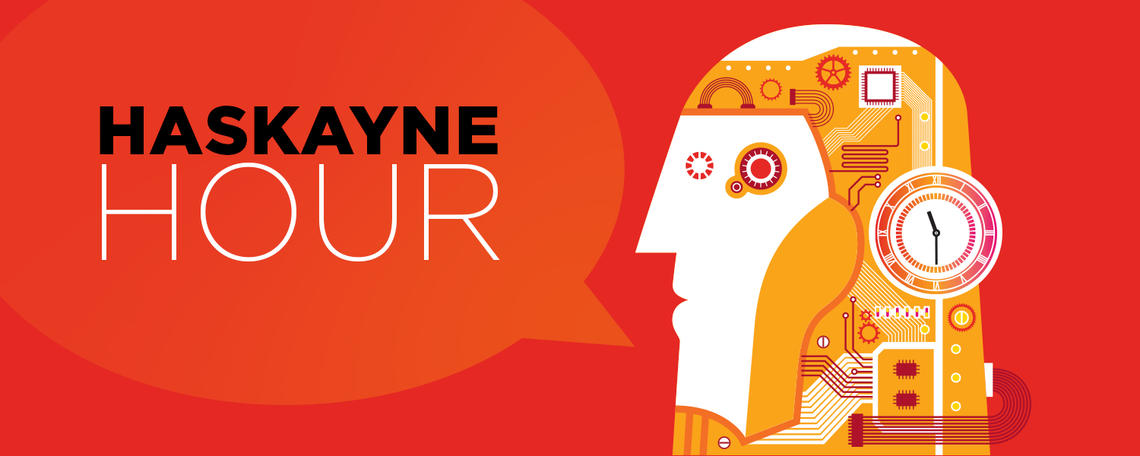 COVID-19's Impact on Workforce: What to Think About Now - June 9, 2020
The COVID-19 pandemic has the potential to dramatically shift the modern workforce away from in-person and in-place contacts towards digital solutions, robots and remote employment. Science, technology, automation and artificial intelligence could play a greater role in the society. Come and hear a lively discussion about the likely growth areas and the areas where a large portion of workforce would be rendered surplus. How would this massive workforce restructuring play out? What you should you and society think about now to plan for these changes?
Additional Q and A
Question for Dr. Anup Srivastava, PhD: I have followed your research on the relevance of financial statements for financial analysis for modern companies. Will changes resulting from COVID-19 make these statements even more meaningless?
Answer: COVID has further enhanced the already growing importance of knowledge firms. During COVID times, technology has contributed to the smooth running of the world, as those who work from home would attest. We would have been unable to function without Microsoft, Apple, Cisco or Google. The shift toward AI and machines would now be accelerated, requiring even greater investments in research and development. In addition, pharmaceuticals and biotechnology would assume greater importance during and after COVID. These developments imply that the relevance of financial statements for companies that matter would further decline. That is, financial statements would increasingly fail to reflect the true resources of the company, which is soft assets like technology, patents, customer and social network, and brands.
Question for Whitney Rockley: If it is fair to say that humans are the most flexible resource, is there a danger for enterprises to lose this flexibility by going deeper into IoT?
Answer: As I mentioned on the call, humans will continue to be the best and most flexible robots we have for several decades to come. It is all about balancing automation and robotics with people but I don't think we should be fearful about going deeper into the IoT because we will lose the human factor. I believe it will always be there and act as the higher intelligence.
Question: Aren't the companies who haven't started a digital transformation already too late?
Answer from Whitney Rockley: Those companies that haven't started their digital transformations are definitely lagging behind but they can catch up if they have a good, executable strategy. You may want to check out Maciej Kranz's book called "Building the Industrial Internet". It's excellent.
Question: During COVID-19 there are indications that employers are placing work monitoring tools on employees at home workstations. Implications are that eventually employers will only pay for hours worked thus eliminating many full time jobs. Thoughts?
Answer from Whitney Rockley: I am not a proponent of big brother technology implementations. They inevitably fail and breed resentment from those who are being monitored. We should lead our teams by trusting them (not monitoring them). Employers need to focus on empowering their teams through solutions that enhance productivity.
Question: One of the factors that will limit the capacity to move to large scale digitalization/automation is the scarcity of skills needed. How fast do you think we can build those skills?
Answer from Whitney Rockley: This is an excellent question and one that cannot be answered with a specific time other than saying the faster the better. I think we can accelerate the building of these skills if we combine a deep industry domain expert with a data science/engineer. These cross-skilled teams tend to fill in skill gaps quickly.
Question: Isn't supervised learning a better approach for machine applications using data and physics as compared to unsupervised learning? Post Covid-19, the mundane or low tech tasks get automated, more value added jobs will stay? What is the viewpoint?
Answer from Whitney Rockley: It really depends on the application. Unsupervised learning is really good for complex, highly computational scenario analysis that needs to be done quickly and accurately. Supervised learning is great when you are combining the human "machine-whisperer" with the software to operate better. I fundamentally believe value added jobs will stay for some time.
Question: Once a vaccine or an effective treatment is developed for COVID-19, people will have a choice to resume traditional commuting travel for work.  While some will work remotely, others will want to commute to a common workplace because of the real or perceived benefits of social interaction.  Do you feel the concern with mass transit will encourage some to avoid mass transit and take personal vehicles?
Answer from Whitney Rockley: I do believe that the concern with mass transit will encourage people to avoid it all together and find alternative forms of transportation. Since COVID, demand is soaring for bicycles and many car companies are focusing more effort on accelerating the launch of their electric vehicle. COVID has placed an even bigger magnifying glass on reducing emissions so I am hopeful more environmental means of transportation will occur.
About the speakers: 
Whitney Rockley is a Managing Partner and co-founder of McRock Capital, a venture capital firm focused exclusively on the Industrial Internet of Things (IIoT). Rockley is a sought-after advisor on innovation strategy having invested in high growth tech companies targeting industrial markets for the past 20 years. In addition to being one of the few female founders of a venture capital firm in Canada, Rockley was also the first female Chair of the Canadian Venture Capital & Private Equity Association (CVCA). Rockley currently serves on the boards of Praemo,  Invixium, Serious Integrated and Miovision. She served on the Boards of the Venture Capital Association of Alberta (VCAA), Decisive Farming (acquired by Telus), mnubo (acquired by AspenTech), RtTech Software (acquired by AspenTech), and PPIC (acquired by Pure Technologies, which was later acquired by Xylem). Rockley is also a Haskayne School of Business graduate, learn more about her Haskayne experience by listening to the Peer Review podcast.
Dr. Anup Srivastava, PhD, is the first Canada Research Chair at the Haskayne School of Business. He is one of the foremost researchers on the evolution of knowledge economy and the rapidly changing landscape of business. He shows how the practice of management changes when knowledge-based companies like Apple and Google replace asset-intensive companies, such as Ford and Exxon, to become the most valuable companies. Beyond scholarly publications in top academic journals, he has published over twenty practitioner-oriented ideas in Harvard Business Review. His work has been cited in Wall Street Journal, Financial Times, Economist and Forbes and Barrons. He brings to his research a unique lens with over 14 years of corporate experience, having worked as a banker, consultant and corporate executive in the United States and India. Before joining Haskayne, he was a professor at Kellogg School of Management (Northwestern University) and Tuck School of Business (Dartmouth College).
Moderator Kristen van de Biezenbos, is an assistant professor at the Haskayne School of Business and Faculty of Law, UCalgary. Her research explores energy law and its local impacts, with a focus on externalized costs and regulatory gaps. She also writes about global energy initiatives, international energy transactions and comparative energy policy. Before joining UCalgary in 2017, Kristen taught energy law and related courses at the University of Oklahoma College of Law and Texas Tech University School of Law. She received her J.D. from Tulane University Law School and interned for the honorable Judge Lance Africk at the U.S. District Court for the Eastern District of Louisiana. Kristen is a member of the Board of Advisory Editors for the Tulane Law Review and the Loyola Maritime Law Journal and is a former trustee of the Rocky Mountain Mineral Law Foundation. She currently serves as chair of the Admiralty & Maritime Law section of the American Association of Law Schools.
Next Haskayne Hour
Our next Haskayne Hour online will be in fall 2020. Please keep an eye to your email inbox for your invitation. If you haven't already, please sign up for our mailing list.
For event specific inquiries email haskaynehour@haskayne.ucalgary.ca