2023 Inspiring Business Leader Award
We are pleased to recognize the 2023 Inspiring Business Leader Award recipient, Dawn Farrell, president and CEO of Trans Mountain Corporation.
Join us on June 22, 2023, for the Inspiring Business Leader Award gala to celebrate Dawn and reflect on the resilience and stamina it takes to be an inspiring leader. We are excited to hear her insights about changing the dialogue around the immense talent we have in Canada and how business can be used to mobilize change.
Sold out – Thank you for purchasing your tickets early!
We invite you to contribute to the Inspiring Business Leaders Scholarship Endowment to recognize this year's recipient, Dawn Farrell
If you have questions regarding this event please contact Elizabeth Henderson at elizabeth.henderson@haskayne.ucalgary.ca.
Dawn Farrell, president and CEO, Trans Mountain Corporation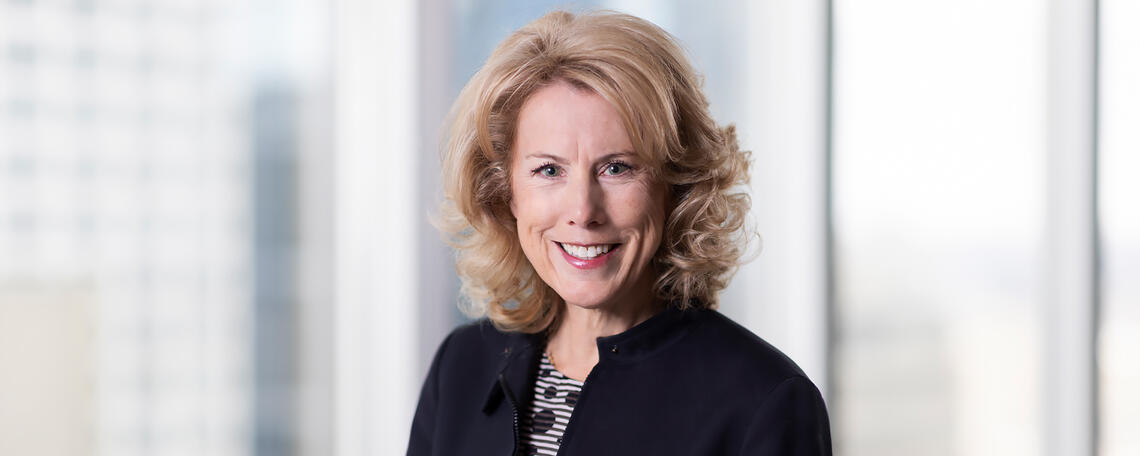 Dawn Farrell, BComm'83, MA'85 has over 37 years' experience in the energy industry and has held a variety of positions within this sector. Farrell retired as CEO and president of TransAlta Corp. on March 31, 2021, following her senior executive role at B.C. Hydro. As of August 2022, she was appointed to the position of President and Chief Executive Officer of Trans Mountain Corporation. At Trans Mountain Corporation, Farrell is driving forward the expansion of Canada's only pipeline system transporting oil products to the West Coast. The largest project in the pipeline's history, it involves installing approximately 992 kilometres of new pipeline, new and modified facilities including pump stations and terminals, and a new dock complex at the Westridge Marine Terminal in Burnaby, British Columbia.
Farrell is currently the chair of the board for The Chemours Company and a board member of Portland General Electric. She has held past board positions with CNRL, the Business Council of Canada, Alberta Business Council, Calgary Stampede, Conference Board of Canada, Mount Royal College/University Board of Governors and Foundation Board of Directors, Fording Coal Income Fund, New Relationship Trust, and Vision Quest Wind Electric.
As a community leader, Farrell is known for her deep policy work in electricity, the environment, and ESG. She has worked with the Canadian government on a roadmap for advancing renewable wind technology and was a member of the Canada-U.S. Council for the Advancement of Women Entrepreneurs and Business Leaders.
Farrell is currently the chancellor for Mount Royal University which is a four-year term. She is the first chancellor ever appointed to this role. She continues to serve as a member of the Trilateral Commission, a non-governmental, policy-oriented international forum, and she and her husband Brendon are community champions for Momentum.
Farrell is the 2022 Calgary Influential Women in Business Award Lifetime Achievement recipient. She holds a Bachelor of Commerce and a master's in economics from the University of Calgary and attended the advanced management program at Harvard Business School. In 2019, she received an honorary doctorate of laws from Mount Royal University.
About the Inspiring Business Leader Award
Set to inspire a new generation of leaders, students and the community, the Inspiring Business Leader Award continues to shine a spotlight on ethical business leadership while highlighting an outstanding leader that is making an impact in our changing city.
The Haskayne School of Business and the Calgary Chamber of Commerce are excited to co-present this new perspective on leaders in the Calgary business community. Gala partner, Calgary Foundation, adds their enthusiasm to this refreshing view on leadership in our evolving city. Recipients are recognized for their inspired leadership, personal and professional accomplishments, commitment to community and business acumen.
The 2023 awards gala isa special opportunity to celebrate while enjoying the spectacular architecture of Mathison Hall, Calgary's newest home for business. Look forward to hearing the unique perspective of this year's recipient and how they are striving to lead for the next generation.
All proceeds from ticket sales and sponsorships of the Inspiring Business Leader Award are directed to a student scholarship endowment which will help support future leaders. Proceeds also support the Emerging Entrepreneur scholarship offered through the Calgary Chamber of Commerce.