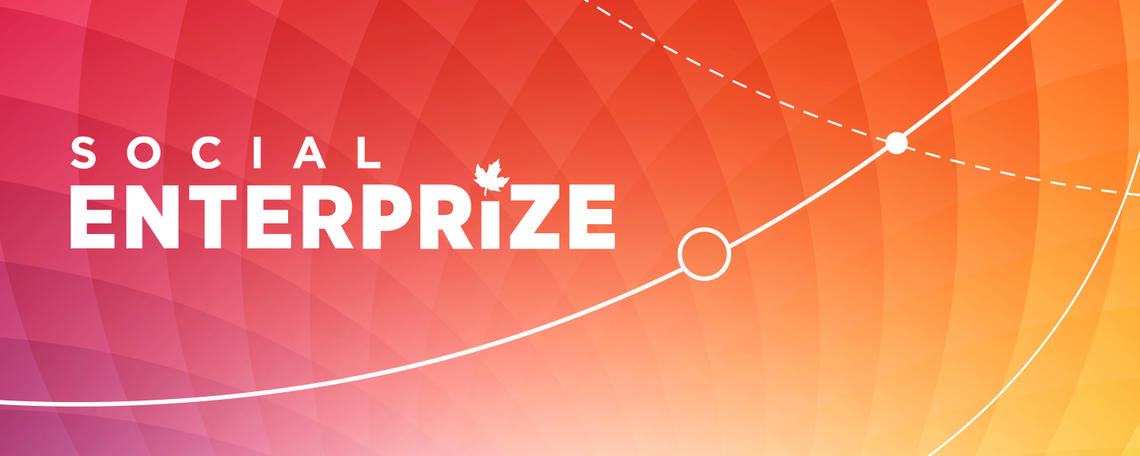 Canada's premiere event recognizing social enterprises
The biennial Social EnterPrize celebrates Canadian organizations demonstrating best practices, impact and innovation in social enterprise. Created by the Trico Charitable Foundation in 2011, the Social EnterPrize recognizes organizations that blend the social and the entrepreneurial by using business models to solve social problems.
Since 2019, the Trico Charitable Foundation and the Haskayne School of Business at the University of Calgary, have partnered in presenting this event. The next Social EnterPrize will be in 2021.
The Trico Charitable Foundation and the Haskayne School of Business at the University of Calgary, first partnered in 2019 to present the $100,000 Social EnterPrize.
2019 recipient
Skwachàys Lodge is a unique venture created by social housing organization, the Vancouver Native Housing Society. The facility houses two social enterprises, a fair trade Indigenous art gallery and a boutique hotel, that support the society's mission and financial sustainability. Onsite there are also 24 studio apartments that offer a life-changing housing program for practicing Indigenous artists where they can also access a shared artist workshop and programming opportunities.
As a part of Social EnterPrize, there is a special opportunity for Calgary social enterprises: What's Next YYC. Calgary ventures who have received an award and/or successfully completed a social enterprise capacity program can apply to What's Next YYC for a chance to take the next step in their development.
Of all the applications received, 10 finalists are selected to participate in a live pitch fest, at Social EnterPrize, vying for valuable cash awards to help advance their social enterprise.
Previous finalists and recipients
2019 was the inaugural year for What's Next YYC and there was an amazing list of finalists. Ten finalists pitched their venture at the awards night where there was live-voting for the audience choice award and the remaining three recipients were chosen by judge, Charmian Love, Entrepreneur in Residence at the Skoll Centre for Social Entrepreneurship at the Said Business School at Oxford University. Each of the recipients were awarded $25,000 to continue to advance their social enterprise.
2019 recipients
Judge's Choice recipients
Beaverlodge: An app that turns energy efficiency for your home into an easy game that saves you real money.
CMNGD: Employing people facing poverty through a sustainable commercial laundry service.
Universal Access: Accessibility consultants providing certified barrier-free environments.
Audience Choice recipient
Social Enterprise World Café
This event offers a chance for students who are interested and involved in social entrepreneurship to connect and build momentum in using business principles to do good. Held as a part of the Social EnterPrize festivities, it is a forum for students to learn from previous recipients of the Social EnterPrize.