Informatics Research Centre (iRC)
The Informatics Research Centre (iRC) strives to be a leader in the study of information technology and its effects on individuals, organizations, markets, and the economy. The iRC pursues excellence both in research and in educational domains through theory-driven and applied research, and through partnerships with research institutions, industry, and public organizations.
The iRC supports the development of research and of future professional leaders through a series of activities including hosting international scholars and presenters, research colloquia, and workshops; engaging in research partnerships; and developing curriculum and professional opportunities for students with the support of industry members, businesses, and public organizations.
Current research areas include, but are not limited to:
Business-to-business (B2B) electronic commerce (also known as e-business), business-to-consumer (B2C) electronic commerce, electronic markets, and interorganizational information systems (IOS)
Information technology (IT)-enabled business process reengineering, IT-supported decision making, and information infrastructure
The diffusion of new information and communications technologies
Design of contractual infrastructures for interoperability of IT
The impact of IT on organizations, markets, and public policy
Implications for leadership and governance of IT infrastructure and service
There are several opportunities for students to be involved with iRC activities through a BTMA concentration. Undergraduate students interested in the concentration of Business Technology Management can find more information here.
The iRC supported the undergraduate Haskayne School of Business team of Sara Elashar, Zoonee Nadam, Hadi Ali, and John Jamieson who competed in the inaugural edition of the International Business Analytics Challenge Finals at HEC Montreal in March 2019. The challenge was to help AIESEC make a digital transformation and in the process increase the number of exchange opportunities, increase the number of fulfilled exchange opportunities, and define and measure the impact on the exchange participants. At the finals in Montreal, the Haskayne team competed against teams of graduate students with specializations in analytics and not-for-profit strategy. The team impressed the judges with what was referred to as the "best business case" and the only solution that could make AIESEC money. Along the way, the students also identified small changes to be more successful at the competition in the coming years.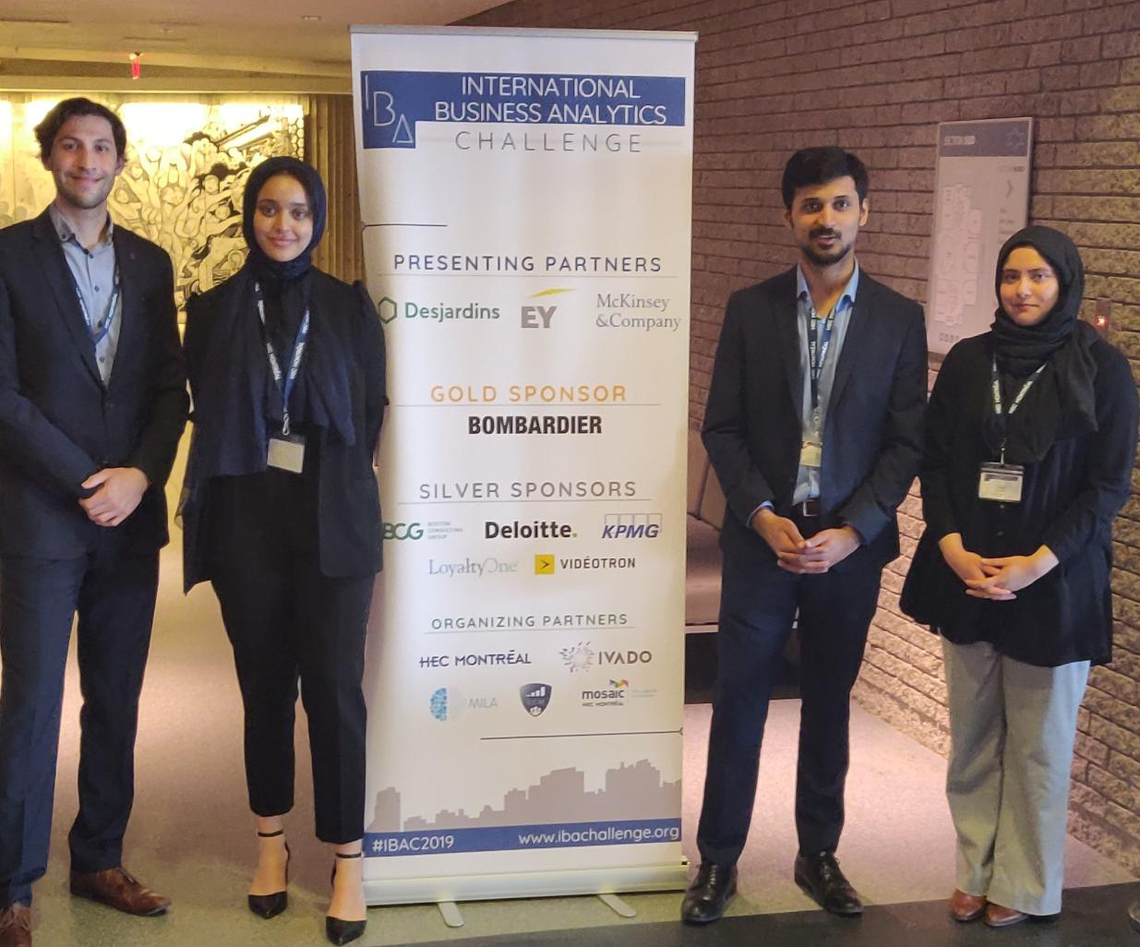 Academic Members of the iRC produce top-tier publications in information and communication technology between and within organizations.
Current Academic Members
Industry Research Fellows
Industry Research Fellows support the iRC vision by liaising between researchers, industry, and students for enriched learning experiences and professional opportunities including co-curricular activities, student mentorship, and advanced projects for real-world application.
Graham McFarlane is an Industry Research Fellow with the Informatics Research Centre (iRC) in the Business Technology Management area at the Haskayne School of Business. In addition he is a Management Consulting specializing in the management of information technology.
Graham graduated from McGill University, Montreal, and his past experience includes ten years with IBM Canada occupying technical, project management and line management positions, including the management of a large scale computing service bureau.  Since 1978, he has been a Certified Management Consultant with Western Management Consultants working on engagements both domestically and internationally.
His achievements include:
Contributing author writing several articles on IT management for industry publications
Past President of the Institute of Certified Management Consultants of Alberta (ICMCA). In 1992, appointed a Fellow of the ICMCA
Past member of the Board of Directors for the Planning Forum, Calgary Chapter
Past Executive Member of the Canadian Information Processing Society (CIPS) and holder of the Information Systems Professional (ISP) designation
Past Board of Directors member for Theatre Calgary
Industry Advisory Council
Guidance of senior management from Calgary's international business community is invaluable to the pursuit of both educational and research objectives of the iRC. These members engage in ambitious initiatives involving the development of relevant skill sets for emerging professionals and the applicability of groundbreaking research to business.