The PETRONAS International Energy Speaker Series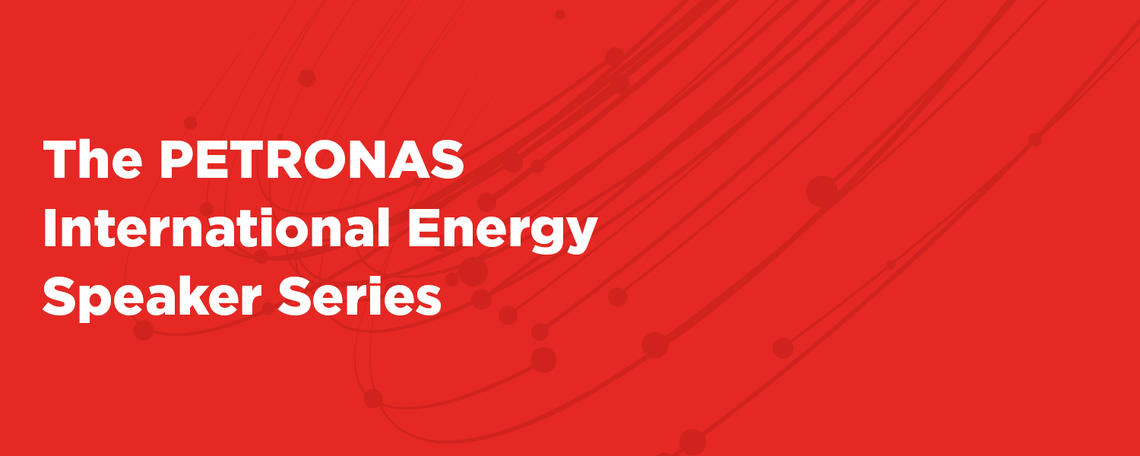 Connect with global energy thought leaders
The PETRONAS International Energy Speaker Series is your opportunity to see world-renowned and respected international energy experts and learn their unique perspectives on the global energy landscape. The series, held annually is generously supported by PETRONAS Energy Canada. Join the many industry leaders who come to hear an international viewpoint on the energy industry by joining our mailing list.
Canada's Successful Path to 2050
You are invited to attend the annual PETRONAS International Energy Speaker Series on Canada's Successful Path to 2050. The event focuses on exploring Canada's role in serving the world's energy needs for the next 30 years from diverse perspectives. At this unique event, the expert panel will discuss the relevance of net-zero ambitions, access to capital, LNG demand, blue and green hydrogen, emissions reduction technologies, nature-based solutions and how industry and government respond to current challenges. 
The Haskayne School of Business is pleased to welcome the following experts to the PETRONAS International Speaker Series: 
Time: 2:00 p.m. to 3:00 p.m. MT
Date:  Thursday, January 28, 2021
Location: Online
Questions? Please contact ccs@ucalgary.ca.
The PETRONAS International Energy Speaker series is proudly supported by PETRONAS Canada and hosted by the Centre for Corporate Sustainability at the Haskayne School of Business with the University of Calgary. The series brings world-renowned international energy experts to Calgary to share their unique insights.
2019 Speaker Series: The State of LNG Markets in the world and Canada's potential
Tuesday, November 26, 2019
The annual 2019 PETRONAS International Energy Speaker Series featured an exclusive speaking engagement with retired Dutch politician and former Executive Director of the International Energy Agency, Maria van der Hoeven.
Van der Hoeven is a Dutch professional with broad political and managerial expertise. She took over as Executive Director of the IEA on September 1, 2011 and led the Agency during a period of exceptional change in the global energy economy, as rapidly shifting supply and demand balances for oil and other major fuels transformed the IEA's traditional mandate. Her term ended on August 31, 2015.
2018 Speaker Series: The State of World Energy Markets and Canada
Tuesday, November 6, 2018
The annual Progress Energy International Speaker Series featured an exclusive speaking engagement with Global Head of Commodity Markets Strategy and Senior Oil Market Strategist at BNP Paribas, Harry Tchilinguirian.
Frequently sought-after as a commentator on Bloomberg and CNBC, he is known as a leading authority on the state of oil and energy commodity markets. Join us to engage with this dynamic speaker to gain his perspective on global oil markets – where they are now and where they are headed.
Harry Tchilinguirian joined BNP Paribas Global Markets in August 2006 and is currently part of the firm's Global Markets Research group. Earlier, he was Global Head of Commodity Markets Strategy with the firm's Commodity Derivatives business line.
The Q&A session was moderated by Peter Tertzakian, Executive Director of ARC Energy Research Institute. Peter's 30-plus years of experience in the business of energy combined with his unique ability to synthesize the world of energy transitions will help facilitate an interesting discussion.
Peter is an economist, investment strategist, advisor, author and public speaker on issues vital to the future of energy.
2017 Speaker Series: The Current State of Energy: A Global Perspective
Thursday, October 5, 2017
The inaugural Progress Energy International Speaker Series featured an exclusive speaking with the 13th United States Secretary of Energy, Dr. Ernest Moniz. Known for his bipartisan support and commitment to an "all of the above" energy strategy, Dr. Moniz shared his insight on the global energy ecosystem. 
As Secretary of Energy from 2013 to January 2017, Dr. Moniz advanced energy technology innovation, nuclear security and strategic stability, cutting-edge capabilities for the American scientific research community, and environmental stewardship. He placed energy science and technology innovation at the centre of the global response to climate change and negotiated the Iran nuclear agreement alongside the Secretary of State.