What makes the CDL special? First of all, it is about the greater good. There is no hidden agenda and no vested interest. The CDL does not charge a fee to the companies. Everyone is a volunteer waiting to contribute. Unlike many funds, the CDL members actually roll up their sleeves. Not only contributing time and judgement, the mentors also contribute their vast network. They can open doors for young people. This is huge.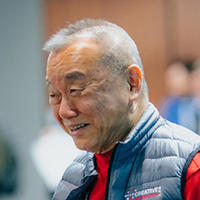 Chen Fong
Cofounder, Calgary Scientific, Fellow, CDL-Montreal, CDL-Rockies, CDL-Toronto, CDL-Vancouver
An emphasis on objective-setting, helping companies focus on what's most important to their business
Focused mentorship from experienced entrepreneurs who have founded, led, and sold significant tech companies
Opportunities to raise capital, including access to angels and VCs from Europe and North America
Technical advice from world-leading scientists, engineers and economists
Hands-on support from top students, who embed within the company to provide business development expertise
Prominent firms that provide ventures with legal, financial, and management advice/services, connections to first customers and co-development opportunities.
Frequently Asked Questions
I have no experience in business, can I be a founder?
Yes. CDL excels at helping founders with deep technical expertise find the right business models and learn to operate their ventures.
Can I start a company based on my PhD/master's research?
Yes. Some of CDL's most impressive alumni are graduate students who used their research to start a company.
I just started my company, is it too early to participate in this program?
CDL typically admits companies that have advanced beyond the concept stage and that have developed or are working on a prototype. Demonstrating that you are committed to building a product or service is important to unlocking interest and support from mentors and future investors.
What are the fees to participate?
There are no fees for participation.
For more information or to learn more about how to apply to CDL-Rockies contact cdl-rockies@creativedestructionlab.com.
Am I a fit for CDL?
Most companies that are accepted into the CDL program have a working prototype or proof of concept and will be ready to raise their seed round during the program. CDL will accept companies that are earlier or later stage in some cases if they are exceptional in other areas.
What stream should I apply to?
Every CDL site has a Prime (general) stream and a specialized stream. Ventures should consider their market, technology and location when seeking out a CDL location. CDL-Rockies Prime stream is open to technologies in all industries, while our Energy stream will be composed of energy technology companies, supported by a specialized team of scientists, economists, Fellows and Associates who possess deep experience and expertise in related industries.
What are my commitments if I'm accepted into the program?
Ventures must attend all five sessions, commit to providing information to the CDL team on a timely basis, and work collaboratively with the Fellows, Associates and students. The program's milestone-based structure is designed to help ventures prioritize their workload in a series of eight-week "sprints." The more time that is committed to meeting the objectives, the higher the chances are for a venture to stay in the program and receive funding from mentors/investors.
Can I apply if I've been accepted into another incubator or accelerator?
Yes, CDL can be complementary to other programs, and many other incubators and accelerators encourage participation in CDL.
The CDL works with startups that employ innovations in technology and business models that promise a chance of delivering massive improvements to economic productivity and human welfare. Have a look at the CDL Alumni companies.