Team Hunter
Hunter Centre for Entrepreneurship and Innovation (HCEI)
Team Hunter - our community based volunteer program - was launched in 2014 by the Hunter Centre in support of ENTI 317, the Bachelor of Commerce required course in Entrepreneurial Thinking at the Haskayne School of Business. Since launching, Team Hunter has grown phenomenally in size and scope - we now have over 100 active volunteers who support a number of ENTI courses at Haskayne from undergraduate to MBA level, and often feature as guest speakers at special events.
Team Hunter is comprised of entrepreneurs, early stage investors and industry experts who have a passion for supporting student-led entrepreneurial activity. Team Hunter volunteers act as advisors, pitch coaches and judges for students in entrepreneurial courses/programs at Haskayne. Our dedicated volunteers have varied backgrounds - from marketing, finance, law and human resources to technology and social enterprise - but they all have something in common: they are passionate about supporting student entrepreneurs at UCalgary. Thanks to the dedication of Team Hunter, over 3000 students have benefited from advisory panels, pitch coaching, and guest speaker events to date.
While the goal is not always to launch great business ideas (although sometimes that does happen), students gain so much by being guided through entrepreneurial thinking concepts by people with 'been there done that' experience.
We are seeking individuals who have the following qualities:
Either have entrepreneurial experience or have a passion for entrepreneurship.
Love the idea of working with students in experiential class-based activities at UCalgary.
Have a creative and entrepreneurial mindset to help students assess the validity of their business ideas.
Have a background in business or are familiar with entrepreneurial approaches (e.g. value propositions, business models, bootstrapping, market research, pitching, etc.).
Work for an entrepreneurial support organization in Calgary OR are industry experts in a particular field with an interest in mentorship.
Are passionate about supporting the development of well-rounded, well-educated Haskayne graduates.
Benefits to joining Team Hunter
Share your knowledge and experience to help students succeed personally and professionally.
Connect with other like-minded individuals from the entrepreneurial ecosystem in Calgary through in-class activities, social events and networking opportunities.
Extend your network by becoming part of our family of special guests for a range of Hunter Centre initiatives, including the Hunter Centre Speaker Series.
Add to our mission of diversifying our economy by helping shape a new generation of entrepreneurial thinkers and business leaders!
While many of our Team Hunter members choose to join us for 3-4 sessions per year, some are only able to commit to 1 session (which is still great!). Once you are registered in the program, we will approach you with suitable opportunities and you then have the opportunity to sign up, based on your availability.
Interested in joining Team Hunter?
Would you like to shape the future of our startup landscape in Calgary? Are you 'all in' to support young entrepreneurs and their ideas? We hope so – and note that in doing so you are making a difference on our campus.
Please contact us at hunter.centre@haskayne.ucalgary.ca if you are interested in becoming a Team Hunter volunteer and a Hunter Centre staff member will be in touch with you to discuss the details of what it means to be part of Team Hunter.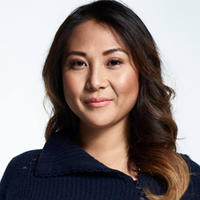 Entrepreneurship is so much about innovation and it's remarkable that the Hunter Centre is able to foster this. Whether you become an entrepreneur yourself or you work for a company — that entrepreneur mindset is something that can and should be applied to every sector. I believe there is a place for everyone in the entrepreneurial world.
Lourdes Juan, BGS'05, MEDes'10
Director at Hive Developments, Founder of Leftovers Foundation