With bold plans to shape a new generation of entrepreneurs, we at the Hunter Centre are striving to teach students to develop the skills to recognize opportunities, embrace challenges and extend Calgary's entrepreneurial "can-do" spirit while also providing them the foundations critical to starting a business.
Are you interested in taking academic courses that will make a real difference in your career? Want to participate in exciting extracurricular activities that will introduce you to new people and opportunities? We can help you unleash your entrepreneurial potential.
Are you a professor or instructor interested in incorporating innovation experiences into your courses? Get in touch with our team to open a conversation about how we can contribute to the great work you're already doing.
Are you interested in volunteering as a mentor, attending events & workshops, or recruiting creative students to work with you as part of a course project? Let us know how can we help you develop a meaningful relationship with entrepreneurial thinkers at the Haskayne School of Business.
2021 RBC Fast Pitch Competition
The Hunter Centre for Entrepreneurship and Innovation hosted the 2021 RBC Fast Pitch Competition on May 3rd. The RBC Fast Pitch Competition showcases the top teams emerging from two courses in Entrepreneurial Thinking (ENTI 317 and ENTI 201) at the Haskayne School of Business. These experiential courses motivate students to develop an entrepreneurial mindset by brainstorming possibilities, solving problems, and ultimately creating their own new venture concept aimed at capturing a unique market opportunity.
The winning teams are:
First Place: Team ChimpCrimpz
Second Place: Team Miggy Freeze
Third Place: Team BioBox
Click here to watch the winners announcement.
What is next for the winners?
The three winners will be taking part in a pilot program by the Hunter Centre called Upgrader. Upgrader is a program that allows the winning teams to meet and collaborate with individuals from the innovation ecosystem over the Summer to understand and learn how to overcome their initial challenges, allowing them to start their ventures successfully. 
The teams will work over the summer towards specific goals and will meet with industry professionals on three key dates to discuss any roadblocks. 

Questions? Please get in touch with us! hunter.centre@haskayne.ucalgary.ca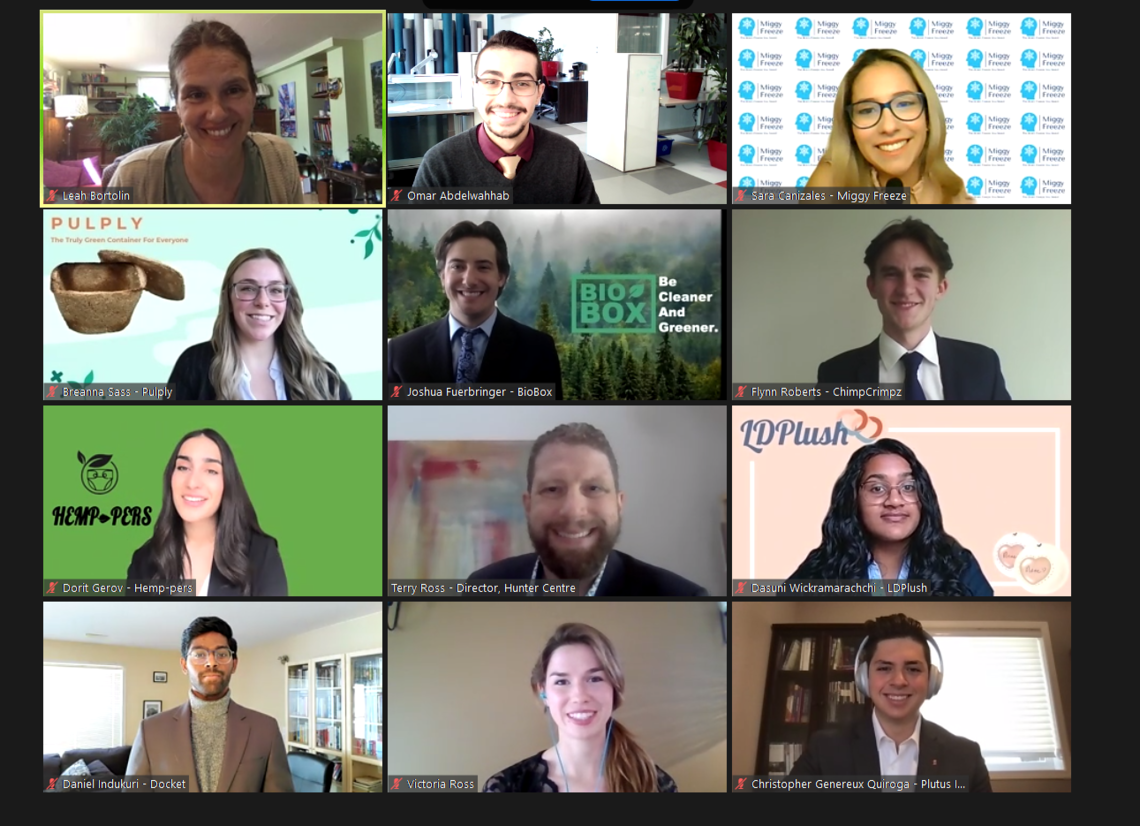 Leading Innovation: Three-Box Solution with Vijay Govindarajan
Vijay Govindarajan, known as VG, is widely regarded as one of the world's leading experts on strategy and innovation. VG, NYT and WSJ Best Selling author, is the Coxe Distinguished Professor at Dartmouth College's Tuck School of Business and the Marvin Bower Fellow at Harvard Business School.
VG adapts an ancient Hindu philosophy to balance a company's often competing realities of past, present, and future. The more we can plan for opportunity, the better the possibility of creating a successful future.