There are several awards that will be presented at the Pivot on Purpose Summit. The Social EnterPrize and What's Next YYC are presented by the Trico Charitable Foundation. The NU Student Social Entrepreneurship Awards are presented by the NU Community Board.
Presented at the Pivot on Purpose Summit, the biennial Social EnterPrize celebrates Canadian organizations demonstrating best practices, impact and innovation in social enterprise. Created by the Trico Charitable Foundation in 2011, the Social EnterPrize recognizes organizations that blend the social and the entrepreneurial by using business models to solve social problems.
Over $100,000 in prizes are available to celebrate the best and brightest of social enterprise leadership in Canada.
2021 Social EnterPrize recipient
Aisle International (BC) is the recipient of the 2021 $100,000 Social EnterPrize from the Trico Charitable Foundation. Menstrual health may seem like an unexpected point of inspiration for a social enterprise, but Vancouver-based Aisle (formerly Lunapads) saw a powerful opportunity to impact not only sustainability but also social justice. Co-founders Madeleine Shaw and Suzanne Siemens set out to create a world-class collection of washable pads, period underwear, and menstrual cups in 1993. In 2000 they began a practice of donating products and funds to fight period poverty. Aisle became a certified B Corporation in 2012 and in 2020 became the first period care company to complete a comprehensive Life Cycle Analysis (LCA) of their products. Thanks to their efforts, over 30,000 individuals have been supported with product donations and over 250 million disposable pads and tampons have been diverted from landfills and waterways. Today Aisle continues to be a world leader at the forefront of menstrual equity for people of all sizes and genders.
Runners up for the Social EnterPrize,  Living Works Education Inc. (AB), AccessNow (ON) and Alinker Inventions Inc. (BC)  will also have a chance to receive the $25,000 POPular choice award voted on by Pivot on Purpose attendees on November 19, 2021.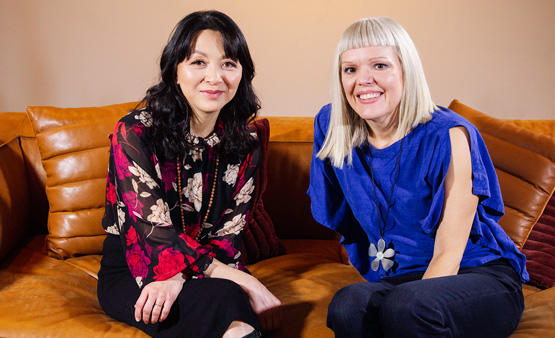 Previous recipients
The Trico Charitable Foundation and the Haskayne School of Business at the University of Calgary, first partnered in 2019 to present the $100,000 Social EnterPrize. Watch the below video to hear more from the 2019 recipient Skwachàys Lodge.
NU Student Social Entrepreneurship Awards
Presented at the Pivot on Purpose Summit, the NU Student Social Entrepreneurship Awards is open to student social entrepreneurs. Applications for the NU Alberta Student Social Entrepreneurship Awards closed on April 6, 2021. Three prizes will be awarded of $10,000 each.
Students outside Alberta who have a social enterprise are eligible for the NU National Student Entrepreneurship Award which will offer $25,000 to the winning venture. Applications for the NU National Award will open in the summer of 2021.
Calgary ventures who have received an award or successfully completed a social enterprise capacity program can apply to What's Next YYC for a chance to take the next step in their development. What's Next YYC features two $25,000 jury prizes, a $25,000 audience choice, and $25,000 the finalists share amongst themselves. The awards will be handed out on Thursday November 18th, 2021, at the virtual Pivot on Purpose Summit (POP).
Previous recipients
2019 Judge's Choice recipients:
Beaverlodge: An app that turns energy efficiency for your home into an easy game that saves you real money.
CMNGD: Employing people facing poverty through a sustainable commercial laundry service.
Universal Access: Accessibility consultants providing certified barrier-free environments.
2019 Audience Choice recipient: