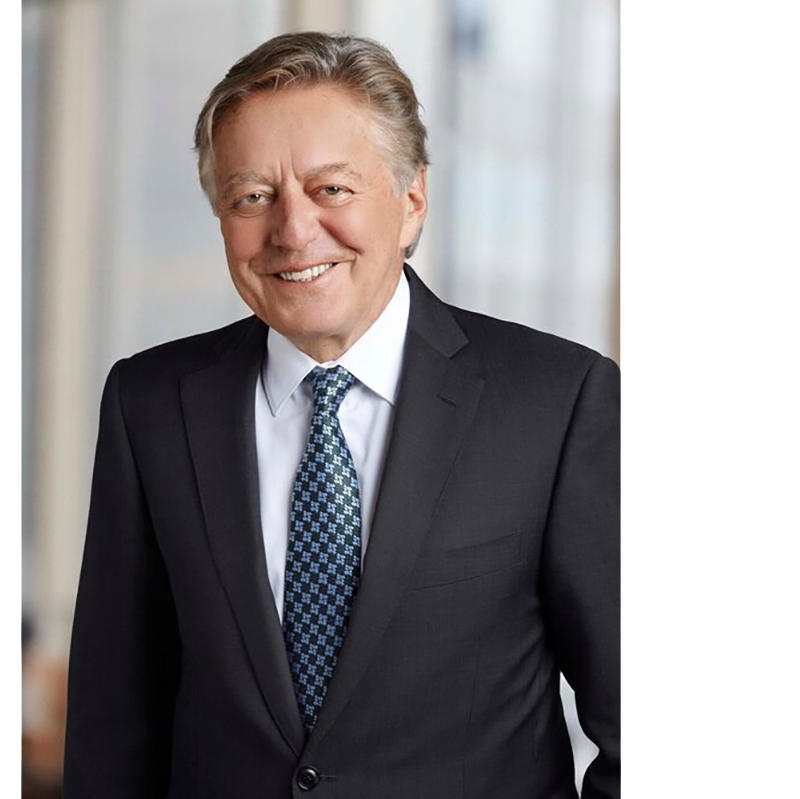 Mac Van Wielingen is an investment management executive, corporate director, entrepreneur, and philanthropist, and he has been called "Calgary's corporate radical" for his progressive thinking and unique grasp of corporate leadership, governance, and strategy. His vision, knowledge, and insights have been developed through extensive experience in building and directing businesses and by his learnings as a self-described "student of business leadership."  
Currently, Mac is the founder and chair of Viewpoint Group and a co-founder of Viewpoint Investment Partners (VIP). VIP is a global, multi-asset, quantitatively-focused investment management company. Mac oversees all aspects of the VIP business and offers specific input into strategy, research, and investment decision making.
Mac is a founding member of the Business Council of Alberta, servicing as vice chair and director (2019-2021), Mac recently was appointed chair of the board (2022). The Business Council of Alberta was created with the purpose of "making life better" for Albertans and all Canadians.
He serves on the Board of Directors for the Institute for Corporate Directors (2018-present) and is a member of the recently formed Chart the Future Committee sponsored by the ICD and TMX Group. This Committee was created to review how corporate governance in Canada must evolve to support competitiveness and contribute to positive societal outcomes.
Mac served as chair of the Board of Alberta Investment Management Corporation (AIMCo) (2014-2017), where he joined as an original director in 2007. AIMCo is the fifth largest investment management company in Canada, managing approximately $120 billion on behalf of 32 endowment, pension, and government funds in The Province of Alberta. 
Mac's knowledge, expertise, and primary experience is the product of over 40 years in the financial and energy sectors. He is a founder, director (1989-2018), and partner (present) of ARC Financial Corporation, the largest private equity investment management company in Canada focused on the energy sector, with approximately $6 billion of capital under management. ARC Financial has invested in over 180 businesses, with ownership control in most, providing Mac with a unique foundation of experience and understanding relating to the challenges and realities of building businesses. 
Mac is also a founder and former chair (1996-2016) of ARC Resources Ltd., a leading company in Canada's oil and gas sector, which has a current market capitalization of approximately $5 billion. In 2015 and 2016, while Mac was chairman of the Board, ARC Resources was ranked #1 in Brendan Wood International's Shareholder Confidence Index in the Energy and Power Group and was selected as the TopGun Board of the Year. In addition, the Canadian Coalition for Good Governance selected ARC Resources as the 2016 recipient of the Governance Gavel Award, presented for the Best Disclosure of Corporate Governance and Executive Compensation Practices.
Mac currently serves on the Alberta Economic Recovery Council (ERC) and previously served on the advisory committee that created the Alberta Indigenous Opportunities Corporation (AIOC).
Mac is a founding partner of the Creative Destruction Lab and recently joined the Platform Advisory Roundtable as an honorary member, which provides counsel and support to the Platform Innovation Centre in Calgary.
In 2012, Mac co-founded the Canadian Centre for Advanced Leadership (CCAL) at the Haskayne School of Business at the University of Calgary and served as chair of the External Advisory Group from 2012-2020. Today, he participates as a member of the External Advisory Committee.
His lifelong passion for learning and sharing keeps him actively involved in speaking engagements, writing pursuits, and community events, with the goal of advancing dialogue and catalyzing positive change among directors and business leaders. Mac has participated in well over one hundred speaking engagements during the course of his career and has published numerous articles and reports on leadership, governance, and strategy.
Mac is an honours graduate of the Ivey School of Business in finance and has studied post-graduate economics at Harvard University. While Mac is as busy as ever, when he is not working, he is spending time with his wife, Susan, and their children and grandchildren. He also enjoys travelling, golfing, and reading.
AWARDS & RECOGNITION
2017: Fraser Institute Founders' Award
2016: Calgary Business Hall of Fame Laureate
2016: Fellow of the Institute of Corporate Directors
2015: Chairman of the Year, Alberta Oil's C-Suite Executive Leadership Awards
2014: Distinguished Business Leader Award
2014: Haskayne School of Business, University of Calgary Honorary Doctor of Laws
2013: Ivey School of Business Alumni Award – "Global Ivey Day"
2012 United Way Calgary - Francis Lefaivre Award – Presented to Mac and Susan Van Wielingen
2011: Ernst and Young Entrepreneur of the Year Award, Prairies
PUBLICATIONS
Van Wielingen, M. (2021). "What is the future of Canada's Energy Sector? Emerging Themes of an Optimal Pathway." The School of Public Policy.
Van Wielingen, M. (2020). "Economic underperformance, excessive indebtedness, and our constrained future." Calgary Herald Opinion.
Van Wielingen, M. (2019). "Canada's energy policy, and its increasingly fact-free discourse, demands a rethink." Globe and Mail Opinion.
Van Wielingen, M. (2017). "Culture as governance and the link with performance: The evolving role of the corporate board." Conference Board of Canada, Briefing.
Van Wielingen, M. (2015). "The evolving role of the corporate board: Governance, strategy and the imperative of performance." Conference Board of Canada, Stewardship Review, 2-21.
Van Wielingen, M. (2012). "Ethical Leadership: It sustains performance over time." Leadership Excellence, GILD, 2012.