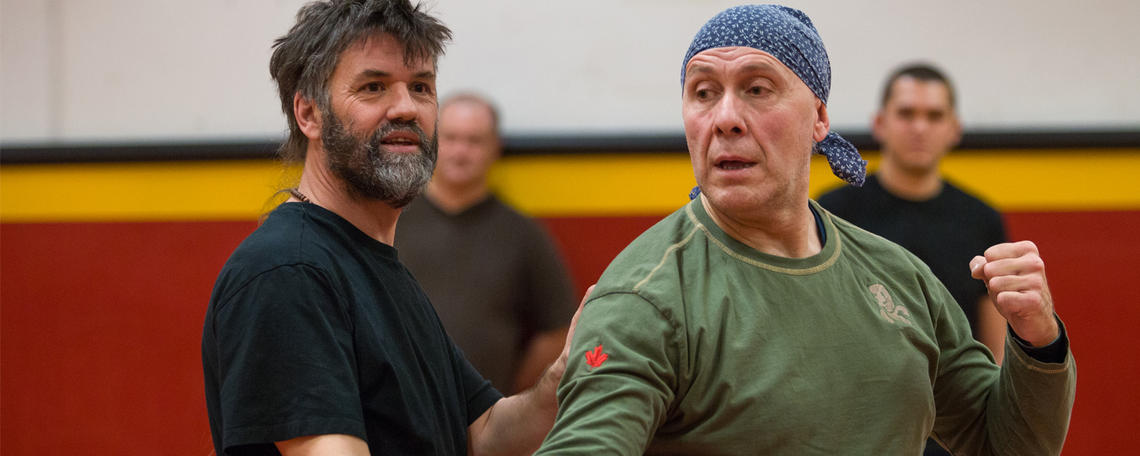 The Japanese term 'dōjō' literally means 'a place for practicing the way' and generally refers to a space used for training in martial arts or meditation. The Haskayne Leadership Dojo is rooted in both these traditions. Building on the foundational work of martial artists, somatic educators, and leadership coaches like Koichi Tohei, Maasaki Hatsumi, Jay Creasy and Richard Strozzi-Heckler, we teach practices and principles from budō taijutsu or close-quarters combat training, drawn from the Japanese ninja tradition to help students explore and embody the principles of advanced leadership. In this approach, the body and its habitual responses become a metaphor for how we engage and lead others while the mat or dojo floor becomes the world under a microscope. Our goal is to support students to bring a new level of awareness, skill and presence to their leadership journey. 
What happens at a Leadership Dojo?
The Leadership Dojo is a 90-minute session modeled on the structure of a traditional martial arts class. A typical class will explore a particular leadership theme and may include stretching, rolling, breathing & meditation exercises, mindfulness & awareness practices, martial arts techniques, teaching stories and group discussions and reflection.
The atmosphere is one of great respect, safety and personal growth for all; this is not a gym or a fight club and there is no sparring or competition. Physical fitness, muscular strength or previous experience are of little importance here; you will be able to learn something valuable whatever your background.
The program is instructed by Dr. Julian Norris.