Connecting business leaders to business education through philanthropy
At Haskayne, we are advancing business education in the areas that define Calgary and Alberta: ethical leadership, entrepreneurship, and energy. The Haskayne Founders' Circle, a dedicated group of Haskayne supporters, was established in 2011 to help achieve these bold goals.
Haskayne Founders' Circle members are generous and visionary individuals who support the Haskayne School of Business with a gift of $10,000 or more each year. They have joined Dick Haskayne and other visionaries and philanthropists to help create the next big chapter in our school's story.
When you join the Haskayne Founders' Circle, you join a driven community of philanthropists who are investing in the future of business education. Together we can energize the next generation of business leaders.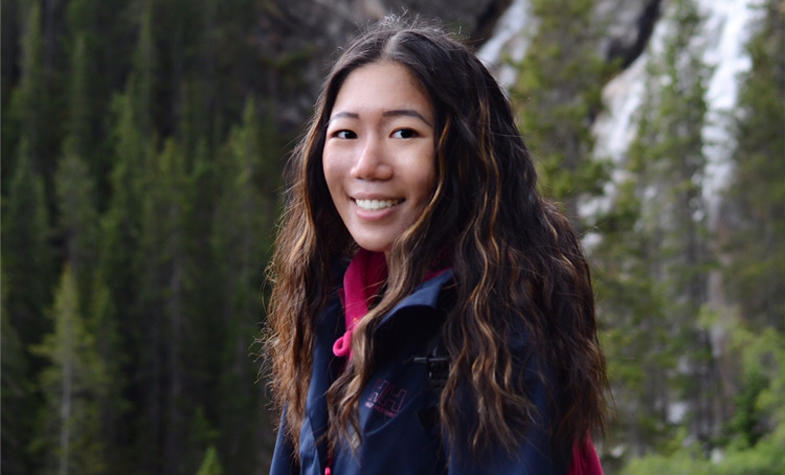 "I am sincerely thankful for the kindness and goodwill of Haskayne donors! Thanks to your continued support for students such as myself, I am one step closer to achieving my life goals and aspirations. Your support allows me to strive for academic excellence and pursue personal and career development initiatives in order to position myself as a strong contender in the professional business field."
- Yuxin (Amy) Li, Recipient of the Michael Lang Undergraduate Awards in Entrepreneurship and Innovation
Want to help drive change? Join the Haskayne Founders' Circle.
The momentum of the Haskayne Founders' Circle is growing. Since its inception in 2011, the Haskayne Founders' Circle has advanced priority initiatives at the school. Your support is helping to realize our vision of becoming a leading global business school, focusing on Calgary's defining elements: advanced leadership, entrepreneurship and energy.
Your contribution directly impacts Haskayne students
The generosity of Haskayne Founders' Circle members directly impacts programs and initiatives that support Haskayne students, researchers and community. Here are just a few examples of important projects members help advance at the Haskayne: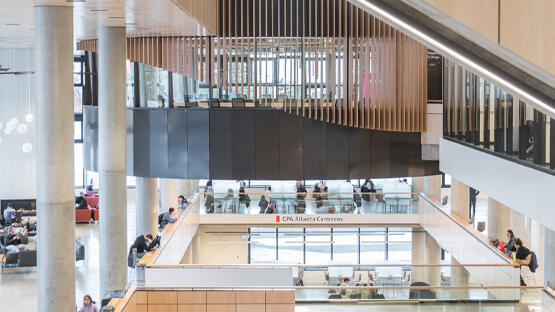 Haskayne Capital Expansion Project
Our new building Mathison Hall is transforming the business education landscape in Canada. Be a part of our story and leave a lasting legacy.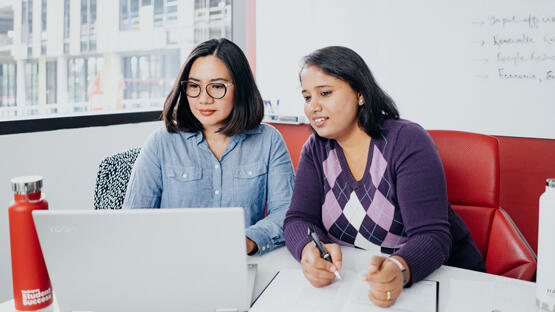 Scholarships
Help open doors to higher education through scholarships and contribute to building equity in workplaces, boardrooms and C-suites.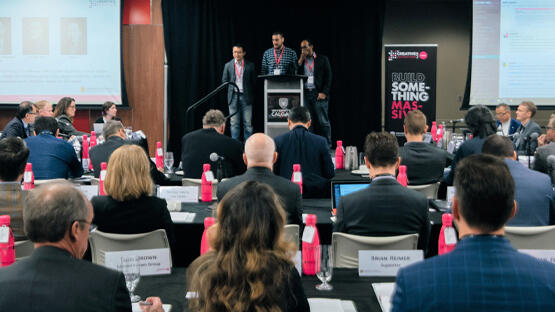 CDL-Rockies
Creative Destruction Lab - Rockies program, one of seven labs worldwide, is building the entrepreneurial ecosystem in Calgary and Alberta; encouraging diversification of Calgary's economy through technology; community-based learning for MBA students; and support for early stage ventures. The program employs an objectives-based mentoring process with the goal of maximizing equity-value creation.
Centres of excellence
The Canadian Centre for Advanced Leadership in Business (CCAL), the Hunter Centre for Entrepreneurship and Innovation, the Westman for Real Estate Studies and the Trico Foundation Social Entrepreneurship Centre are advancing teaching, learning and research to inform and elevate the entire community.
For more information on how you can get involved please contact:
Jorge Torres
Director of Development, Haskayne School of Business
jorge.torres@ucalgary.ca
Gladys Loo, CFRE
Associate Director of Development, Haskayne School of Business
gladys.loo@haskayne.ucalgary.ca
403-604-4674