Doctor of Business Administration (DBA)
The world of business is becoming increasingly complex with rapid globalization and technological change. New theories, strategies and practices must be developed to help organizations adapt through effective execution and achieve long-term growth. The Haskayne Doctor of Business Administration degree is designed to provide students with the research, analytical, and critical thinking skills to become recognized contributors to new business knowledge and its application to practice.
Built specifically for executive leaders, the Haskayne DBA is designed to prepare students to make significant contributions to strategy development and execution for sustained organizational growth through the application of management theories and frameworks.
Upon completion of their degree, graduates are recognized as professional scholars who can bridge the gap between academic research and theory and management practice.
World-renowned Faculty
Recognized nationally and internationally as outstanding teachers, world-class scholars and thought-leaders, the Haskayne DBA faculty engage in research that seeks to advance existing business knowledge and practice.
Extensive Support
Our team is committed to providing extensive support to allow you to get the most out of your learning experience.
Immediate Application
Taught by leading researchers and world-renowned academics, the Haskayne DBA offers engaging classroom and online learning focused on applied research.
International Accreditation
Offered widely in Europe, the Haskayne DBA is one of the first of its kind in Canada. As part of Haskayne's international accreditation, you will learn from leading scholars and receive the highest quality academic experience.
Evolve Your Career
Upon graduation, you will be equipped with the skills necessary for positions in a variety of industries.
Diverse Network
The students in the Haskayne DBA program bring a diverse mix of industry, functional and educational backgrounds. By studying as a cohort through the program, Haskayne DBA students have a high level of interaction with their classmates and professors.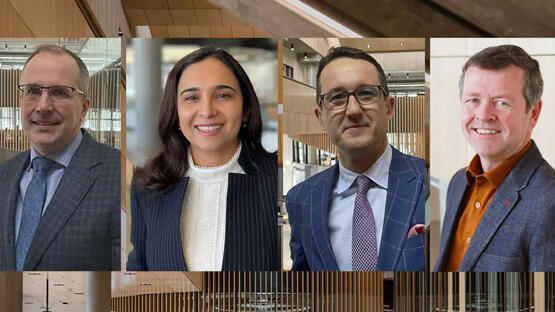 Class of 2023: First graduates of their kind – 4 Haskayne Doctor of Business Administration students achieve significant milestone
Mark Ward, Kanwal Bokhari, Lance Mortlock and Phil Davidson are set to advance business practice and scholarship with new degree.