This is your opportunity to compete locally and internationally in prestigious case competitions.
There are many benefits to participating in case competitions including the application of your classroom learning, meeting students from other schools, presenting to industry leaders, strengthening your confidence and bolstering your resume. Case competitions are split into two broad categories: core-competitions with teams assembled by a coach and open-competitions with teams organized by interested students. Listen to the case competition podcast here.
Core-competitions: are led by Haskayne coaches, where students compete on a coach-assembled team as a representative of the Haskayne School of Business.
Students that are interested in competing in core-competitions must fill out the application form on Elevate – instructions can be found in the video below. Once you are matched to a suitable upcoming competition you will be contacted. If there is a specific case competition you are most interested in, please indicate it in your application. Please note that students are not guaranteed to be selected for a core-competition. Apply now for the September 2021 – June 2022 competition season.
Open-competitions: can be internal Haskayne competitions or external competitions organized by other schools and organizations. There is typically an individual application process, where any student is encouraged to apply as a team, or as an individual. In these open-competitions, students are not competing as representatives of Haskayne; rather they are competing as individuals, or as representatives of self-assembled teams.
Students that are interested in open-competitions can find an extensive list of available competitions below - coming soon. For these types of competitions, students are encouraged to visit the website of each competition and apply directly.
Important note: due to the ongoing Covid-19 pandemic, in-person competitions may require safety measures such as full vaccination, mask wearing, and social distancing. Each competition may have their own requirements, please be sure to check for detailed instructions.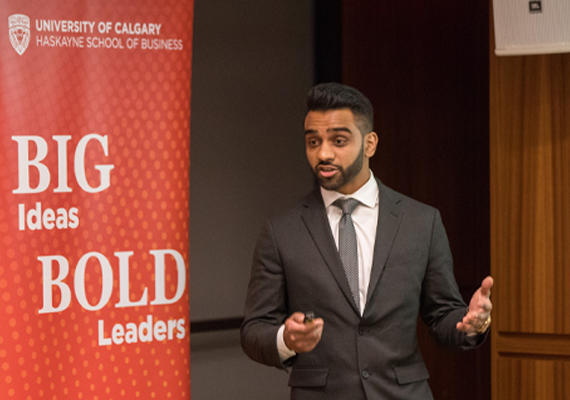 How to access the application for core-competitions
Watch this instructional video before you click "Learn and Apply" under upcoming core-competitions. This video will show you have to navigate the new Elevate platform.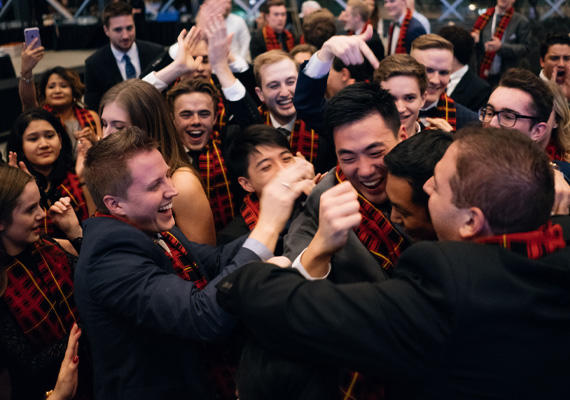 Upcoming core-competitions
Find out what core-competitions are coming up and submit your application to join a coach-assembled team.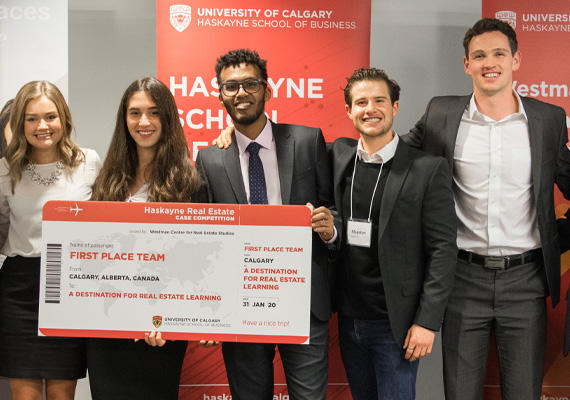 Recent core-competition results
JDC West (MB): 1 Gold and 2 Bronze
Inter-Collegiate Business Competition (ON): 3 Gold, 1 Silver, 1 Bronze
Canada's Comeback Challenge (Canada): First Place
NAIOP Battle of the Prairies (AB): First Place
HSBC Innovation in the Workplace Case Competition (AB): Second Place
IXL Olympics (Global): First and Second Place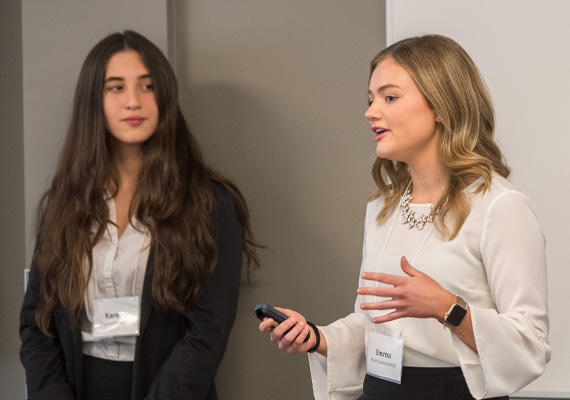 Need help with funding?
Many case competitions are funded by the School. For those that are not, the Student Experiences Fund (SEF) is intended to support and encourage Haskayne students to participate in experiential learning opportunities, including case competitions.
Competitions have become integral part of student experience and culture at Haskayne School of Business
More than 600 undergrads immerse themselves in teamwork and strategy at JDC West 2018
Business schools from Eastern and Western Canada challenged to solve real-life business cases