History
About Haskayne School of Business
For nearly 50 years the School has supported the development of future leaders, as well as advanced business knowledge and practice through its academic research.
Here are just a few of the significant historical milestones of the School.
2020
On May 1, 2020 construction began on the Haskayne Capital Expansion Project, including the new Mathison Hall and renovations to Scurfield Hall. 
Due to the COVID-19 pandemic, most courses and programs temporarily transitioned to online learning format.
Haskayne formed the first-ever Equity, Diversity and Inclusion (EDI) Committee
Haskayne hosted the inaugural Distinguished Business Leaders Summit, where nearly 1,000 participants engaged online on the topic of ethical leadership in a crisis.
Dr. Sandy Hershcovis, PhD named to the Royal Society of Canada College of New Scholars, Artists and Scientists. A national recognition for emerging Canadian intellectual leadership
2019
Dr. Anup Srivastava, PhD becomes Haskayne's first Canada research chair.
Trico Foundation Social Entrepreneurship Centre established. 
Richard and Lois Haskayne Legacy Scholarship has its first recipient.
Haskayne Doctor of Business Administration program launched.
Haskayne Master of Management launches to jump-start the careers of recent non-business graduates.
Rob Peters, BA'67 gifts $5 million to support Mathison Hall project.
2018
BMO Mentorship program established.
University of Calgary announces planned construction of Mathison Hall, thanks to $20 million gift from Calgary business leader Ronald P. Mathison. 
2017
Creative Destruction Lab – Rockies established at the Haskayne School of Business.
Progress Energy International Speaker Series launched featuring Ernest Moniz, the U.S. secretary of energy from 2013 to 2017.
The Haskayne School of Business and Schulich School of Engineering unveil Western Canada's only combined engineering and business degrees program.
2016
The Hal Kvisle Leadership Adventure Education Fund was created to support transformational personal leadership development and experiential learning opportunities for students.
2015
The W.E . (Bill) Richards classroom, Haskayne's first active learning classroom, opens to students.
A team of Haskayne School of Business students takes first place at the prestigious Berg Cup.
The first RBC Fast Pitch Competition takes place and involves 12 student teams competing for more than $100,000 in cash and in-kind prizes.
2014
Launch of the Guided Path system, a unique leadership development tool for students, created by CCAL.
The first Energy New Venture Competition for would-be energy sector entrepreneurs takes place in downtown Calgary.
2013
The Hunter Centre for Entrepreneurship and Innovation was created.
The Westman Centre for Real Estate Studies was launched.
2012
The Canadian Centre for Advanced Leadership in Business (CCAL) was launched to develop ethical business leaders.
2011
The Haskayne School of Business became a member of the European Foundation for Management Development
Two Bachelor of Commerce students from the Haskayne School of Business took first place in the Western Canada Chartered Accountant Case Competition
A group of Haskayne Bachelor of Commerce students finished at the top of the star-studded Western regional of the Hult International Global Case Challenge, second only to a team of Stanford MBAs.
2010
The Global Energy Executive MBA program is launched.
A team of five MBA students from the Haskayne School of Business won the prestigious John Molson International MBA Case Competition, beating out 35 other teams from Canada, the U.S. and around the world.
The Economist magazine of London ranked the Haskayne School of Business MBA in its Top 100 list for the first time, placing it at #82 worldwide (#42 in North America, #3 in Canada).
New Calgary mayor Naheed Nenshi earned his BComm at the Haskayne School of Business. Voter turnout was at least double than originally expected during the municipal election that swept him into office in October 2010.
For the 33rd consecutive year, Haskayne Bachelor of Commerce students finished in the top two overall in the Inter-Collegiate Business Competition (ICBC), finishing in a first-place tie in the 2010 regular season.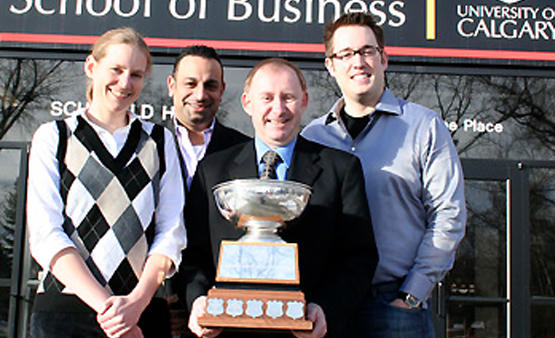 Photo Credit: Ken Bendiktsen
2009
For the 32nd consecutive year, students from the Haskayne School of Business finished in the top two overall in the regular season of the Inter-Collegiate Business Competitions (ICBC).
Haskayne Bachelor of Commerce program accredited by CMA Canada
The Haskayne MBA and undergraduate programs ranked second among 35 MBA programs and 47 undergraduate programs from across Canada in the Knight Schools 2009 ranking, which measures how well business schools integrate social and environmental impact management into their curricula.
2008
Executive MBA programs ranks #38 in the Financial Times (UK) international ranking of Executive MBA programs
2006
Financial Times ranks Alberta/Haskayne executive MBA program top in Canada for career progress of graduates and the extent to which alumni fulfilled their most important goals or reasons for doing an EMBA
Student competition teams on unprecedented winning streak
Introduction of energy concentration across all degrees
2005
Haskayne is the first business school in the world to be granted certification for its PhD in tourism management by the World Tourism Organization (WTO)
University of Calgary announces first appointee to chair in Business Ethics
Financial Times ranks Alberta/Haskayne executive MBA program top in Canada for career progress of graduates
2004
ICD Corporate Governance College launches Directors Education Program at Haskayne
Faculty members attain $500,000 in research grant funds
2003
Direct entry into BComm program established
2002
Haskayne School of Business named in honour of Richard F. Haskayne, OC, AOE, FCA
Global Energy Management and Sustainable Development program commenced
Suncor Chair in Sustainable Development and Competitive Strategy established
2001
Full-time MBA program ranked 87 out of 100 by Financial Times
2000
Haskayne Alumni Chapter formed
Establishment of MAX Award program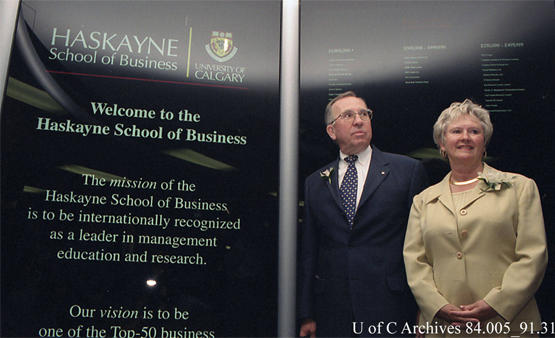 1996
MSc in Sustainable Energy Development Degree program starts
1995
Bachelor of Hotel and Resort Management created in cooperation with SAIT
Executive MBA program created in cooperation with the University of Alberta
1994
MBA program established in Poland
1993
Academic staff peaks at 100
DBLA established
1991
New strategic plan focuses on faculty development and research
$2.4M Endowment for Chair Insurance and Risk Management
1990
4th Floor added to Scurfield Hall
Delivering Results campaign raises $14.7M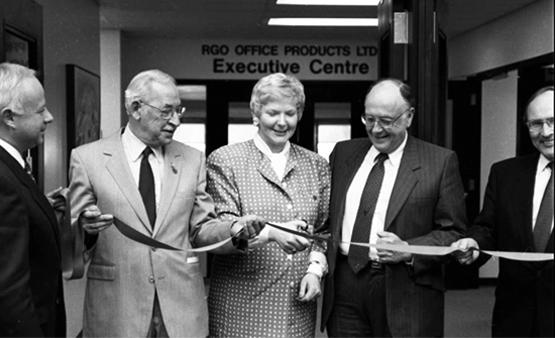 1989
Bachelor of Commerce program is expanded
1988
1986
The Faculty of Management moves into Scurfield Hall on January 1
Full-time MBA program begins
1985
The Faculty of Management becomes the second Canadian University to be accredited by AACSB International
PLM program established
Executive Development program starts
Future Fund campaign launched
1984
Future Fund Endowment created to provide a "margin of excellence" for the school's future
1981
Ralph Scurfield, his family, and NuWest Group of Companies make private donations to begin construction of a new management building
Establishment of Carma Chair in Business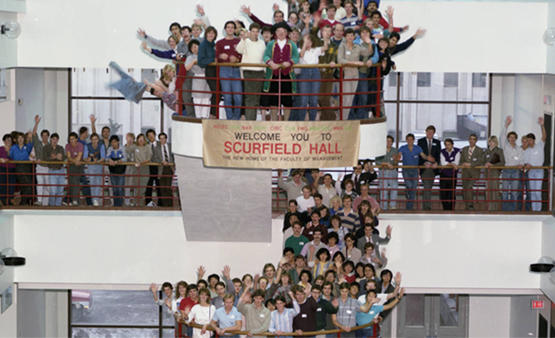 Photo Credit: Communications Media
1978
Faculty of Business becomes Faculty of Management
1977
Management Resource Centre established
Career Development Office established
1975
Part-time Master of Management Studies starts
Major reorganization as per BAB recommendations
1974
Proposal for establishment of a graduate program approved by General Faculties Council
First meeting of Business Advisory Board
1970
Commerce Internship Program begins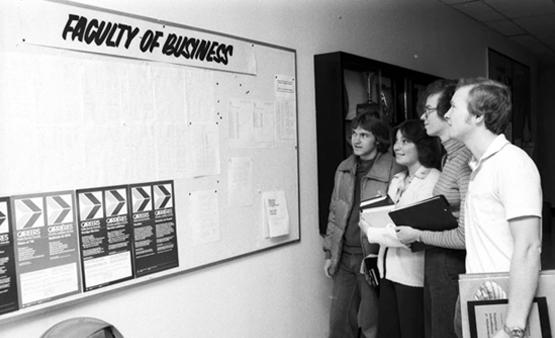 Photo Credit: Jim Peacock
1969
Faculty offers summer courses
Significant revisions made to undergrad program
1967
Faculty of Business is established
1966
University of Calgary is formed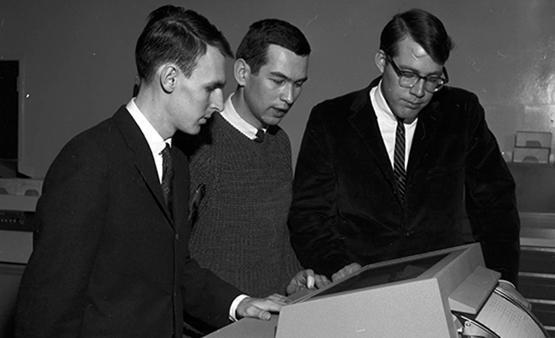 Photo Credit: Neil Chrichton