Business education is more than just a credential. It is a gateway to self-transformation and discovery. Each of our 30,000+ alumni are proof of this. We invite you to stay connected with this powerful community. There are as many ways to be involved as there are different kinds of alumni – but each opportunity helps you to continue your link with people who are committed to transformational change. Explore our pages and find a way for you to stay involved with your business school.
An annual celebration of the amazing alumni within our community. Haskayne alumni are making an impact as leaders, change-makers, innovators and community contributors. Each year nominations by the community are accepted. Each fall, the Haskayne Alumni Awards take place to bring together our alumni, faculty, staff, students and business community. It's an event you don't want to miss.
We encourage you to stay connected with Haskayne. Share your industry expertise as a guest speaker or mentor a student, your advice makes a difference. Attend a Haskayne event and connect with other alumni. And tap into our students looking for work experience by accessing student consultants to help you with a project or hire a student for an internship.
As a Haskayne grad you get access to exclusive offers and continued career support from out Haskayne Career and Life Design office. Do not miss the opportunity to connect with other alumni at the many compelling events offered by the Haskayne School of Business.
Haskayne alumni are leaders in the Calgary business community and around the world. They are a network of graduates making impact locally, nationally and beyond. Watch this space for the stories of inspiring Haskayne alumni!
Alumni Engagement
Haskayne Alumni Office
Scurfield Hall, University of Calgary
2500 University Dr. NW
Calgary, Alberta  T2N 1N4
(403) 220-2919
alumni@haskayne.ucalgary.ca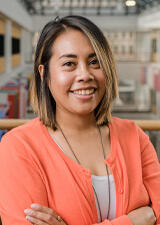 Pamela Aranas
Associate Director, Development and Alumni Engagement
403-220-2919
pcaranas@ucalgary.ca