Haskayne Accelerated MBA
The Haskayne MBA program aims to transform Canada's business landscape by enabling our students to make significant contributions as individuals, and as leaders.
For early- to mid-career professionals, the Haskayne Accelerated MBA is designed to enhance your business acumen, critical thinking skills and leadership capacity to achieve your professional goals.
Built specifically for graduates of a four-year business program from a recognized/accredited Canadian or U.S. post-secondary institution, the accelerated MBA option saves participants up to 45 per cent in tuition cost, as well as significantly reduces their program length.
Advance Your Career
Our dedicated Haskayne MBA Career Consultants support students with personalized career coaching, resume and interview preparation and opportunities to build their networks.
Flexible Delivery
The Haskayne School of Business has developed various MBA program delivery options in order to help you find a program best tailored to your needs. Please note that the majority of electives available for the accelerated MBA are offered in the evening.
Cost & Time Advantage
The Haskayne accelerated MBA can be completed in as little as 12 months, saving both time and money. Students enrolled in the accelerated MBA option take 11 courses, as opposed to 20 courses in the regular MBA option.
Specialization Options
Students have the opportunity to choose from eight specializations, allowing them to tailor their degree to their interests and career goals.
International Opportunities
Haskayne maintains partnerships with a wide variety of schools around the globe, allowing students to select an opportunity that fits with their personal and professional commitments.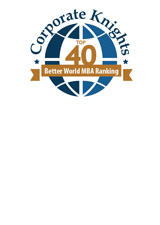 2020 Better World MBA Rankings
Ranked in the Top 40 Better World MBA Rankings by Corporate Knights.