Designed for early to mid-career professionals, the Haskayne Daytime MBA program will help you develop the critical thinking and leadership skills needed to achieve your career goals.
There are many MBA programs to choose from and committing to a program means an investment of both time and money. The Haskayne Daytime MBA program encompasses six elements that are critical, not only in providing you with a superior business education, but are also designed to maximize your experience both in and beyond the classroom.
Accelerated Options
Students who do not meet the Accelerated MBA requirements may still be eligible for course waivers.
Unlock Your Potential
Our dedicated Haskayne MBA Career Consultants support students with personalized career coaching, resume and interview preparation and opportunities to build their networks.
Immersive Experience
Students have the opportunity to take advantage of a broad range of extra-curricular opportunities that will tailor their Haskayne experience to their personal and professional goals.
Diverse Cohort
Daytime MBA students bring a diverse mix industry, functional, educational and cultural backgrounds, allowing students to build and expand their network of contacts.
Specialization Options
Students have the opportunity to choose from eight specializations, allowing them to tailor their degree to their interests and career goals.
International Opportunities
Haskayne maintains partnerships with a wide variety of schools around the globe, allowing students to select an opportunity that fits with their personal and professional commitments.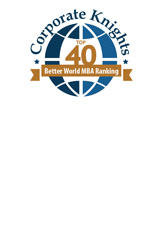 2020 Better World MBA Rankings
Ranked in the Top 40 Better World MBA Rankings by Corporate Knights.